My baby turned 4 this year, and she really wanted some schoolwork of her own like her big brothers and sisters. I was in the process of researching what I was going to use for preschool for her when I was given the opportunity to use and review the
Horizons Preschool Curriculum Set
from
Alpha Omega Publications.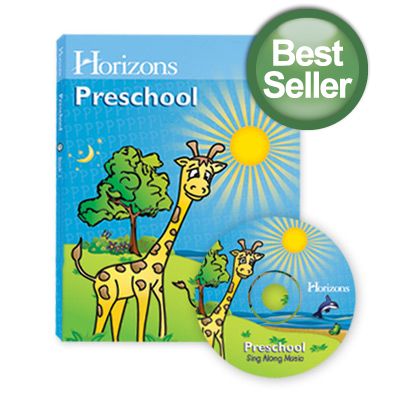 The Horizons Preschool Curriculum Set ($125.95) includes:
2 student books (Part 1 and Part 2)
2 Teacher's Manuals (Part 1 and Part 2)
Music CD
Resource Packet
There are 5 days of lessons per week and 36 weeks worth of lessons for a total of 180 days of school. Each lesson starts with Scripture and has a Biblical theme. A variety of subjects are taught including: Bible, Math, Phonics, Reading, Writing, Social Studies, Science, Physical Education, Health, and Language Arts. Plus there are songs, arts and crafts, and numerous hands on activities.
The Teacher's Manual contains a supply list and scope and sequence for each week, suggested scheduling options, and lists of suggested optional resources. Complete teaching instructions are given for each days lessons. Songs, stories, recipes and other needed information for activities are all included in the Teacher's Guide. The Teacher's Guide is split into two parts. Part 1 is lessons 1-90 and Part 2 is lessons 91-180.
The Student Books contain worksheets for the students to complete. The worksheets are in color and have perforated pages to tear out. Some of the pages are front and back and others, like craft pages are one sided. Like the Teacher's Manual they are split up into two parts with lessons 1-90 in Part 1 and 91-180 in Part 2. There are a wide variety of fun worksheets such as cut and paste, tracing, dot to dots, and more.
The Resource Packet has some reproducible Black Line Masters such as memory verse cards, Alphabet Puzzle, Number Train and more. There are also a variety of colorful teaching aides such as the alphabet, numbers, shapes, colors, clocks, seasons, months of the year and more flashcards and posters. The Resource Packet has over 300 loose leaf sheets.
The Horizons Preschool Music CD has 17 different children's songs sung with children's voices. There are also music only tracks for each song for sing along purposes. Lyrics to all of the songs are included with the CD.
Miss Emelia and I have been using the Horizons Preschool Set 3-4 days per week for the last 4 weeks. The program is set up so you can pick and choose the activities that will suit your child and the length of time you have to teach. If for instance you have a full day preschool you would do most (or all) of the activities. If you have a half day preschool you could pick and choose from the activities to fit a half day schedule. In my homeschool, I am only doing preschool 30-40 minutes per day, so I chose activities that I knew that she would love and combined some things to fit in what we wanted to do.
I always like to have options to choose from. I would much rather have a program that I eliminate things from rather than trying to scramble around and add things in because there is not enough. I love the variety of topics that are covered in this preschool program. I love that it has a Biblical base. The program has a great mix of hands on and worksheet type activities. We are a hands on family and love doing hands on activities, but Emmie really enjoys the worksheets too. They are very cute, age appropriate, and not set up at all to be just busy work. Emmie loves music and loves to sing and we have really enjoyed the daily songs and finger plays that are included.
One thing to keep in mind is that since it is written for classrooms, there are some adaptations that may be necessary if you are using it in your homeschool for one student. None of these things have been major issues and can be either adapted or skipped. For example rather than using classroom students names you could use the names of other siblings or close friends. Rather than sending the homework sheets home to complete you can either choose to complete them with your child or skip over them.
I have been very impressed with the Horizons Preschool Curriculum Set and Emelia loves it! She even asks to do her schoolwork on the week-end. This preschool program is Biblical, fun, and very thorough. It will definitely have her prepared for kindergarten and then some.
Members of The Crew reviewed several different products from Alpha Omega Publications including:
Horizon's Preschool for 3's
Horizon's Preschool Curriculum Set
Horizon's Kindergarten Math Set
Horizon's Kindergarten Phonics and Reading Set
Horizon's Kindergarten Health Set
Horizon's 1st Grade Spelling &Vocabulary Set
Horizon's 1St Grade Math Set
Horizon's 1st Grade Phonics and Reading Set
Horizon's 1st Grade Penmanship Set
Horizon's 1st Grade Health Set
Horizon's 2nd Grade Spelling and Vocabulary Set
Horizon's 2nd Grade Math Set
Horizon's 2nd Grade Phonics and Reading Set
Horizon's 2nd Grade Penmanship Set
Horizon's 2nd Grade Health Set
Horizon's K-2nd Grade Physical Education Set
Stop by the Crew Blog to see what my Crew Mates had to say.