FishFlix.com carries Christian movies and TV programs to inspire, educate, and entertain. On their site is a wide variety of faith based movies to watch and enjoy with your family, use as a Bible study, or for use in your homeschool. As a member of the Schoolhouse Review Crew, I was recently given an opportunity to watch and review Torchlighters: The John Wesley Story.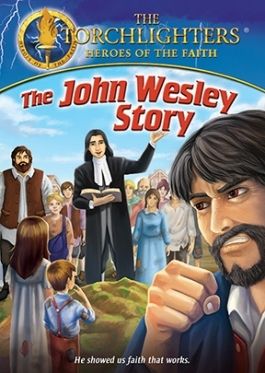 The Torchlighters series highlights men, women, and children who respond to God's call and dedicate their lives to serving Jesus Christ. This animated series was designed with children ages 8-12 in mind, but it can be watched and enjoyed by children who are a little younger or older. When children have an opportunity to see what God can do through a "Torchlighter" they may also want to carry a torch of faith by serving Him.
The John Wesley story begins when John is miraculously saved from a fire. His mother believes that God spared him for a special purpose and called him, "a brand plucked from the burning." Wesley tries to live out that purpose by proving himself worthy by doing good works and using his own strength, but it brings him continuous frustration and failure. He never felt like he could do enough to earn God's favor. He sets off for America to teach the colonists and native Americans about Christianity but returns to England a "dismal failure" with not one convert. Upon returning to England he discovers his changed brother Charles who tells him he is saved. That knowing the Scripture wasn't enough without knowing the savior and that you cannot earn your way to heaven. John realizes his is a sinner saved by Grace and wants to share this message with as many people as he can. His message his not welcome in the established churches so he does something unheard of and takes the message outside the churches to the needy and the outcast.
The John Wesley Story is 30 minutes long and can be purchased for $9.99. FishFlix.com offers free shipping for orders over $35.
I watched The John Wesley Story with my 4,6,8,9,11, and 13 year olds. I chose this DVD to review because we are members of a Methodist church and I thought it would be beneficial for the younger children especially to learn more about John Wesley as he is the founder of the Methodist movement. That is not to say that this DVD would only be good for Methodists. The movie carries a wonderful message of men who spend their lives in service to Jesus Christ and press on with the work He gave them to do even though they are literally thrown out of the churches and even has his life threatened. It also carries a message of caring for the poor and needy and that God loves us all so much that he sent His only son to die on a cross to save us from our sins. I thought the DVD was a great length for the age group it was intended for and those a bit younger. It does have a scene that is a bit intense when a mob comes after John Wesley but quite honestly compared to what is on TV today it is quite mild.
I would definitely recommend Torchlighters: The John Wesley story. I am interested in viewing some of the others in the Torchlighters series as well.
Members of The Crew also reviewed Exploring Ephesus, Privileged Species, Unbroken Legacy of Faith Edition, and Flight and Metamorphosis. To see what my Crew Mates had to say, click on the banner below.