After our review of
Under Drake's Flag
last year, I was really hoping that we would have an opportunity to review the next one that was getting ready to be released. We were thrilled with to be offered a chance to review the
In Freedom's Cause Single Package
from
Heirloom Audio Productions.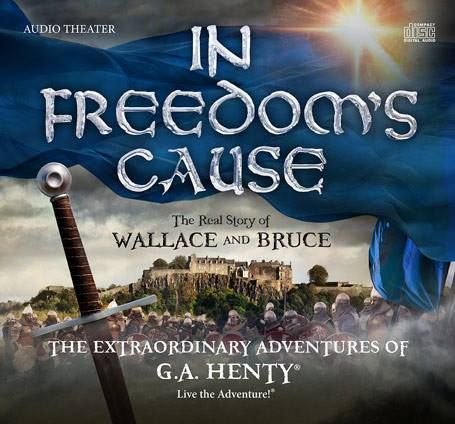 In Freedom's Cause, an active listening audio drama for ages 6 and up, is based on the book In Freedom's Cause by G.A Henty. It tells the story of Archie Forbes (Ned in the audio drama) as he joins Scotland's fight for freedom with William Wallace and Robert the Bruce. In Freedom's Cause has a star cast including Billy Boyd from Lord of the Rings, Skandar Keynes from Narnia, James Cosmo from Braveheart, Joanne Froggratt from Downtown Abbey, and Cathy Sara from Women In Black. It also has a beautiful sound track and sound effects and a fast paced adventure designed to draw the listener into the story and keep them on the edge of their seat during the over 2 hour performance.
The single package ($29.97) includes:
In Freedom's Cause CD Set-Physical Copy - 2 CD set of the audio drama In Freedom's Cause contains over 2 hours of non stop adventure that takes the listener back in time to live the adventure of William Wallace, Robert the Bruce and the many men and women who fought for freedom against the English.
In Freedom's Cause Study Guide Digital Download-A downloadable study guide designed to complete the audio presentation. The sets of questions begin and end as the story takes new turns. Each set of questions has 3 parts:
Listening Well-questions that ask what your child remembers from that section of the story
Thinking Further-more in depth questions that require further thinking or investigation
Defining Words-a list of vocabulary words used in each section for your child to define
Also there are three Bible studies based on the themes of the story, information on G.A Henty, William Wallace and Robert the Bruce, a note on the history of Scotland, and a recommended reading list for those who would like to learn more.
There are no answers provided in the study guide.
In Freedom's Cause Soundtrack MP3 Download- The soundtrack comes in a zip file and once you extract it contains 29 different tracks of award winning music by John Campbell.
Printable Copy of the Prayer of William Wallace- Printable copy of Psalm 23 from the Latin Vulgate Bible.
We love audiobooks at our house. We live out in the country and spend a lot of time in the car traveling from place to place. I also like to use audiobooks on a rainy day or when doing other tasks like cleaning bedrooms or building LEGOS. As I mentioned above we really enjoyed the first audio drama we received from Heirloom Audio Productions and were really looking forward to getting In Freedom's Cause. We covered William Wallace and Scotland's fight for freedom last year in history and I wasn't sure if the children remembered much of it. But, the background information given in the study guide gives you the back story which is great as a refresher or for those who are unfamiliar with the story.
My children (13,11,9,7, and 5) all listened to In Freedom's Cause with me. We listened to the first half one rainy morning and listened to the second half on the way to archery club one afternoon. The story draws you in right from the very beginning. The music and the sound effects are amazing! The actors are wonderful! I have to say I especially love the voice of the narrator. The story is one of faith and perseverance and standing up for what's right even when you face defeat. It reminds us how precious our freedom really is. In Freedom's Cause is action packed and will keep you on the edge of your seat until the end.
You do not have to worry about any of the content in this story. It has a strong Christian message with main characters that show good character qualities. Because of the time period and the story itself, there are periods of the story that are a bit intense (it is a literal fight for freedom after all and many died along the way) but there wasn't any details that were gory or frightening to any of my children. If it is something that you may be concerned about if you have young children, I would recommend listening ahead of time.
The study guide is set up so that if you wish, you could pause the CD and answer the questions after each section. This may be a useful tool for those who want to make sure their children are actively listening or for those who are using it to go along with their history studies. I prefered to allow the children to listen all the way through and then go back and answer some of the questions orally. Older children could complete the guide completely on their own, but without the answers being included the teacher or adult would have to be familiar with the audio drama as well.
One of Heirloom Audio Productions goals is to make history come alive. I believe they are achieving that goal through these amazing active listening audio dramas. The next one, With Lee in Virginia is set to release on around Memorial Day, so stay tuned!
To see what my Crew Mates had to say click on the banner below.