We recently had an opportunity to review Under Drake's Flag from Heirloom Audio Productions.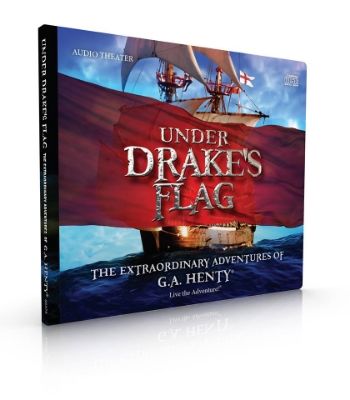 Under Drake's Flag is a 2 CD set containing 2 hours worth of audio drama suitable for ages 6 to adult. My 3 and 5 year olds listened as well and had no problems with it at all, but it is rated for ages 6 and up because there are a few scenes that some may consider intense. Under Drake's Flag was adapted from the book Under Drake's Flag by G.A. Henty and is a story about Ned Hawkshaw's and his friend Gerald's amazing adventures sailing under one of history's great heroes, Sir Francis Drake. Ned is just an ordinary boy dreaming of adventure when an act of bravery witnessed by Sir Francis Drake gives Ned the chance of a lifetime. On his adventure Ned faces being adrift at sea, dealing with nasty crew, fierce battles on land and sea, being shipwrecked, and even facing the Spanish Inquisition. Through it all Ned grows from a boy to a man developing his faith and character under the amazing influence of Sir Francis Drake.
In addition to the audio CD, you will also receive a study guide to go along with Under Drake's Flag. In the study guide each of the 19 sections of the story has three sets of questions. The Listening Well section asks your child questions about what they heard in the story. The Thinking Further asks questions that dig a little deeper and may require some investigation or drawing conclusions about the characters actions or intentions. The defining words section gives a list of vocabulary words used in that part of the story for your child to look up and define. There are also three Bible study sections in the study guide on Godly Character, True Manhood, and Confessing Christ. You will also find a list of resources at the end of the study guide to learn more about Sir Francis Drake.
There are a few different options for purchase. You can buy Under Drake's Flag as an mp3 download for $20 and with it you will receive the downloadable study guide and a printable copy of Drake's Prayer. Or you can purchase a physical 2 CD set for $29.95 and with it you receive the mp3 download, study guide, soundtrack mp3 download, and the printable copy of Drake's Prayer. There is even an option to purchase a "family four pack" of physical CDs for $99.97 and with it you receive an e book copy of Echoes of the Dragon's Drums, mp3 soundtrack, Under Drake's Flag e book, mp3 lecture titled "The Real Francis Drake," Under Drake's Flag study guide, printable Drake's Prayer, Behind the Scenes of Drake's Flag documentary, and unlimited access to the Under Drake's Flag membership website. There is also a group 10 pack option. Go to this page to purchase.
We live in the country and have to drive every where we go. Audio books are a great way to spend that time in the car and keep boredom at bay. We were heading on a trip to a science museum one day so I brought along the copy of Under Drake's Flag. It was an hour drive one way which was just perfect. W could finish the story by the time we arrived back home. 6 of the children were with me ages 3,5,7,9,10, and 12 (4 boys, 2 girls.) My boys especially love adventure and my 7 and 9 year olds have been especially fascinated with pirate and treasure stories lately. I can honestly say that Under Drake's Flag was the best audio drama we have listened to in a long time! The story itself was fantastic. It is jam packed with one exciting adventure followed by another. It is constantly moving which kept the children (and myself) on the edge of our seats waiting to find out what would happen next. You do not have to worry about any of the content in this story. It is a story with strong moral values and a positive Christian message. The main characters are great role models for the children listening to the story. As I mentioned above, there are a few intense scenes, but quite honestly are very tame compared to what many people consider acceptable entertainment these days and there was nothing in the story that bothered even my youngest two. The sound effects and the music are amazing! It is so much more than an audio book it is audio drama and very well done.
The study guide is a great bonus to go along with the CD. We used the study guide after we listened the first time. We answered the questions as a group orally and went over some of the definitions of the words. Older children could complete this study guide independently if that is something your prefer but we usually like to do those type of activities together.
My only complaint is that it was over too quickly! But, I hear that Heirloom Audio Productions will be releasing a new audio drama soon and we will look forward to that!
To see what my Crew Mates had to say, click on the banner below.