Every product we have ever had an opportunity to use from Institute For Excellence in Writing (IEW) has been a huge hit in this house. I am always excited to see them on our vendor list, and this we had an opportunity to use and review Fix It! Grammar: The Nose Tree [Book One] (Teacher Manual) along with Fix It! Grammar: The Nose Tree [Book One] (Student Book.)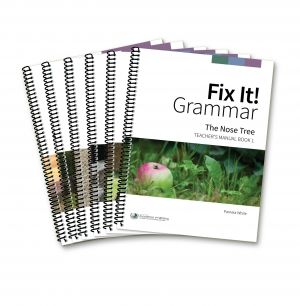 Fix It! Grammar is a series of books designed to teach children in grades three and up usage, grammar, and punctuation concepts all in the context of natural writing. Each book in the series is based on a fairy tale. Placement is based on ability not age. It is recommended that all students begin with book one because each book is foundational to the one after it. But, you can choose to place your child in a later book if you feel they are ready. You can find a placement test here. The method is very simple and only takes around 15 minutes per day. At the beginning of each week, there is a "Learn It" section to read and go over with your students teaching the concept that will be covered that week. You also have the student cut out the grammar cards that are located in the student book. You then model for the student how to apply what they have learned using the Day One passage. Each day for the next three days the student fixes another sentence. At the end of the week thy copy the sentences they have fixed. After all 33 lessons have been completed they have a correct copy of the fairy tale.
There are 6 books in the Fix It! Grammar Series:
The Nose Tree [Book One]
Robin Hood [Book Two]
Frog Prince or Just Desserts [Book Three]
Little Mermaid [Book Four]
Chanticleer [Book 5]
Sir Gawain and the Green Knight [Book Six]
Each spiral bound Teacher's Manual costs $19 and comes with a downloadable student book. IEW's copyright policy allows you to make copies within your own family. There are also spiral bound printed student books available for those who would rather have a printed copy. You can purchase those for $15 each.
I started out planning on using The Nose Tree with just my 12 year old son. We have done a whole lot with grammar up until now so we went with IEW's recommendation of starting with Book One. After we began using The Nose Tree, I decided to go ahead and have my 10 year old work on it with us as well. The first day of the week, I sit down with the boys and read over the "learn it" section of the book. Then we go over each of the vocabulary words and fix the first sentence. The rest of the week they fix the sentences on their own and I check them over. They also copy over the sentences into a notebook.
Can teaching/learning grammar be this easy? Honestly, one of the reasons we have not done a whole lot with "formal grammar" in our homeschool is because I strongly disliked it when I went to school and I have never really found a program that I liked that was effective and didn't take up a huge chunk of time. I mentioned above how much I LOVE IEW (the boys are using Medieval History-Based Writing Lessons right now) and Fix It! Grammar is another product I will add to my love list. I like the philosophy behind it, teaching grammar so that students will be able to effectively edit their own writing. There is not a lot of teacher prep involved, but you are given the tools you will need to easily teach the lesson. It takes only minutes a day. I have not heard one single complaint from either of my boys. IEW's copyright policy makes it a cost effective program for our family to use. I also really like the grammar cards. They are a great resource that students can refer back to as needed.
If you start off with Book One with an older student, you can complete more than one book in a year if you choose, by doubling up on the lessons. I am not planning on doing that with my boys because they spend quite a bit of time already on writing and I do not want to overwhelm them. But I wanted to mention it because if you do have an older child that you want to g through all 6 books with, it definitely is possible to double up.
Teaching/learning grammar can be easy! It also can be done in minutes a day without your children dying of boredom!
There are teacher and student samples on this page of each book (click on the samples tab.) There is also a webinar you can watch explaining all about the program.
To see what my Crew Mates had to say, click on the banner below.