One of the things that I love about having the opportunity to review homeschool curriculum is that I find out about these amazing companies that I have never heard of before! A few weeks ago, the opportunity for reviewing
TouchMath
came up, and when I went to their website to investigate the products they had to offer, I was very intrigued. My 5 year old son had not ever done any kind of formal Math curriculum before (although he could recognize numbers and count) so I was very excited to have the opportunity to review
TouchMath Kindergarten Homeschool.
TouchMath is a multisensory program that works by using TouchPoints. Each numeral 1-5 has single TouchPoints and numbers 6-9 have double TouchPoints. Students count out loud as they touch the TouchPoints in the correct touching pattern for each number. By doing this the learn to associate numerals with real values and are engaged on auditory, visual, and tactile levels. Adding, subtracting, multiplying, and dividing are easier for children because in addition they count forward, in subtraction they count backwards, and multiplication and division they count in sequence.
TouchMath previously had been available for public school, but they now have also developed TouchMath Homeschool Programs for grades Pre-K through 2nd. You receive the program as a download and print out the worksheets. Each unit comes with the black and white printable student worksheets, instruction guides with lesson plans, real world material, tests, and progress monitoring.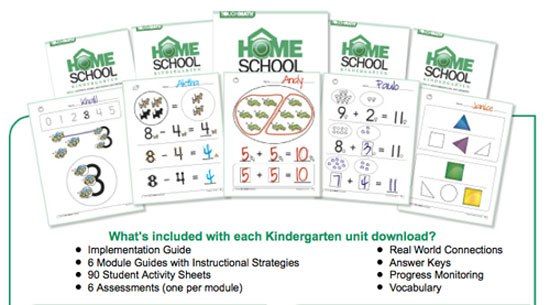 The Kindergarten program is divided into 4 units with 6 modules in each unit.
Unit A-Counting, Adding, Subtracting within 5
Mod 1- Count by 1's and 10's to 100
Mod 2-Representing numbers using manipulatives
Mod 3-Writing and comparing number
Mod 4-Representing numbers using pictures
Mod 5- Adding using manipulatives and pictures
Mod 6-Subtracting using manipulatives and pictures
Unit B-Adding and Subtracting within 9
Mod 1- Writing and comparing numbers
Mod 2-Representing numbers using manipulatives and pictures
Mod 3-Adding using manipulatives and pictures
Mod 4-Subtracting using manipulatives and pictures
Mod 5-Composing and decomposing numbers
Mod 6-Adding and subtracting
Unit C-Understanding Numbers 1-20
Mod 1-Composing, decomposing, comparing 10
Mod 2-Writing and comparing 10-15
Mod 3-Writing and comparing 16-20
Mod 4-Place Value 10-20
Mod 5-Composing and decomposing 11-20
Mod 6-Adding and subtracting in word problems
Unit D-Measurement, Data, Geometry
Mod 1-Describing and comparing objects by length and weight
Mod 2-Sorting and classifying by length and weight
Mod 3-Interpreting Data
Mod 4-Describing shapes in the environment
Mod 5-Mastering 2 D shapes
Mod 6-Mastering 3 D shapes
Here
is a sample of Unit A. You can see samples of the other units by going to
this
page.
You can purchase each unit separately for $59.95 or you can purchase all four for $199.95.
TouchMath has several optional teaching aides and manipulatives to compliment the Kindergarten program.
TouchMath Tutor Kindergarten Software
$99 single license
TouchShapes
$30 for one set (additional pricing for classroom sets)
3-D Numerals
$79
Texture Cards
$99
Math Fans
$239
TouchPoint Posters
$43
Number Concept Posters
$53
I began by downloading the files to the computer. I read through all of the introductory teacher's material on the computer. I decided to only print out the student worksheets and continue reading the teacher pages for each lesson off of the computer to save some printing ink. I printed out all of the student pages and placed them in a notebook. TouchMath recommends spending 2 to 2.5 times your child's age (or developmental age) on math each day, so we spent 12- 15 minutes per day 4 days per week.
I listed above the teaching aides/manipulatives that are available to compliment the TouchMath program. We were incredibly blessed to receive the complete set! I am going to talk more about each of those in detail, but I wanted to mention them now in explaining how we used the program. To start off our daily Math session, we took a few minutes using one of the manipulatives to go over the TouchPoints. Then we would complete about 3 worksheets a day and twice a week later on in the day Christian would use the computer software. My 4 year old daughter has been very interested in what we have been doing and often joins in our lessons.
Christian helped me hang the
Number Concept Posters
(11x17) around our school room. The set comes with numbers 0-9 showing the number,balloons to count, touch points, and counting patterns (except for 0 which has a stop sign and a prickly porcupine to remind children that 0 has no TouchPoints.) Some days we begin our lesson by going around the room and touching the TouchPoints on each of the posters before we begin working on our worksheets. Christian and Lily also like to go around the room counting the balloons. The set includes instructional activities and reproducible desk top masters.
The
TouchPoint Poster
s are smaller (8 1/2x11) and were designed for smaller classroom space. There are 10 posters in the set that can be hung on the wall or laminated and used on student's desks. Hands on activity suggestions are included with these posters along with information on using Touchpoints.
Another of the manipulatives we use to begin our daily math lessons are the
3 D Numerals
. The numerals come with a CD Rom with suggested activities and that you can print worksheets off of. The size of the numbers on the worksheets are the exact size of the 3 D Numerals. The 3 D numerals show the TouchPoints and are a very sturdy plastic. The 3 D numerals are listed as an optional resource to use starting in Unit A Module 4.
Texture Cards
are my favorite (and the children's too)! We also use these cards to start our math lessons (rotating days with the 3 D numerals and TouchPoints Posters.) Often Christian and Lily will choose to take out the cards at other times in the day and lay them out on the table so they can feel and count the TouchPoints. The Texture Cards contain 5 different sets with 9 cards in each set (total of 45 cards.) The different sets include: shapes, fruit, forest animals, sea life, and touchpoints. The front of the cards show the numbers and touchy, feely, touchpoints, along with a picture, and words for the number and picture being shown. The back has the number along with the counting pattern. The forest and sea animals are Christian and Lily's favorites! They love counting by touching the TouchPoints on these Texture Cards! The cards are listed as an optional resource starting in Unit A Module 4.
The
TouchShapes
can be used independently or along with the worksheets to teach concepts such as shape identification, smaller/larger, pattern, and higher shape construction. The set comes with 108 pieces in size multi-size/multi-color shapes (circle, square, rectangle, triangle, hexagon, and rhombus.) We started using the TouchShapes in Module 2 (not required but teaching strategies do talk about using them if you have them.) In addition to using them in the worksheets, Christian likes to use the shapes to build bigger shapes and patterns.
"
With the Math Fans, basic math concepts are presented using manipulatives with highly visual graphics, words, and numbers.
The tangible and graphically-appealing Math Fans help reinforce topics such as: one-to-one correspondence, counting and number order, greater than/less than, money, shapes, fractions, place value, addition, and subtraction.
"
The
Math Fan
set contains: 2 sets of 1-10 fans, 10 ten blocks, one 100 block and A CD Rom containing an 80 page PDF with strategies, lesson plans, and student worksheets. The student worksheets are broken down into 9 units with different worksheets for Pre-K-K (Group A), 1st and 2nd (Group B), and 3rd grade and up (Group C.)
Unit 1-One to One Correspondence
Unit 2-Counting and Number Order
Unit 3-Greater Than/Less Than
Unit 4-Pennies
Unit 5-Shapes
Unit 6-Fractions
Unit 7-Place Value
Unit 8-Addition
Unit 9-Subtraction
The front of the MathFans have pennies, the number for that particular fan with the TouchPoints, and the word pennies. The back has a shape, name of the shape, fractions, and the fraction shown shaded in the shape. The fans do not contain any loose parts or pieces, they fan out for use and close back up for easy storage. To use them, we printed out the worksheets for Group A and work on those once a week. We have also used the Math Fans for counting practice.
TouchMath Kindergarten Software
was made to compliment the print product. Students can reinforce what the are learning by following UnoBear on a tour of the United Sates learning: Touching/Counting Patterns, Number Concepts 1-20, Addition with sums to 10, Backward counting from 10, and subtraction from 10 and below. Each state the student visits contains a different theme. For example: Topic 1 Disc 1, California has a sea/ocean theme and teaches touching/counting patterns while Topic 2, New Jersey has a plant theme and teaches Number Concepts. There are 2 discs included with the Software.
This page
has videos that you can watch and recommended system requirements. I did want to mention that Christian in the photo is using a laptop with a built in mouse in the photo. He had a terrible time with the drag and drop activities. He had to use two hands on the mouse, one to drag and one to drop. When I went back and read the back of the user's guide, it says the game was designed and developed for use with a standard mouse or touch screen. We had much better success by plugging in a wireless mouse.
What I really liked about the TouchMath program is that it takes numbers from being just an abstract symbol on a page and turns it into something meaningful that children can see, hear, and touch. Many young children learn much easier this way. Once the child has learned the TouchPoints, they can easily learn how to add, subtract, multiply, and divide. There is a bit of reading that the teacher needs to do ahead of time to understand how and why the program works the way it does. You also need to have the worksheets printed out and ready for the student, and to have any of the other supplies that may be necessary (crayons, glue, objects to count, etc..) The teaching part is written in easy to follow step by step procedure. I like the suggested Pre-Activities. For example: "Take a walk outside and have your child find and count groups of objects (rocks, sticks, flowers etc. . .) " I really like the worksheets and Christian liked doing them as well. They are black and white making them less expensive to copy, and the activities are varied so that the child is not doing the same exact thing over and over again. Christian really enjoyed connecting the dots in a dot to dot, coloring gum balls in a gum ball machine, circling groups of like items. Another thing I like about the black and white worksheets is that they are not full of distractions for the child. They are drawn simply and children can keep their focus on what they are supposed to be doing.
One thing that I wish was different is how the pages in each module are arranged. Each of the units starts out the same with the philosophy, overview, module descriptions, instructions on how to use the guide, information about the manipulatives, classroom guide checklist, and Common Core information. That information has to be in each module because you can choose to buy each one separately. Then you have the instructional strategies for each module followed by the worksheets. For me, I think it would be easier if all of the "teacher's materials" for the whole unit were together followed by all of the worksheets for the unit. This would make it easier to print out just the necessary student worksheets without having to go through all of the instructional portions first and locate the page numbers you need to print.
I mentioned it above, but wanted to mention again that the manipulatives that TouchMath offers are complimentary products and not required for you to purchase in order to utilize this curriculum. If that is something that you feel would benefit your family, you can choose to purchase one or more of them, but that is completely up to you and what you feel would benefit your child the most. The curriculum can be used with only the downloads and supplies that you already have in your house (crayons, counters, pennies, etc..) In my experience with the manipulatives over the last several weeks, they are high quality, very sturdy, and will last through multiple children for a long period of time.
The Crew reviewed all of the levels of TouchMath Pre-k-2nd grade. Click on the banner below to see what my fellow Crew Mates had to say.