I love music and think it is important to expose children to a variety of music and musical instruments. But, music lessons are just not a possibility for us, not just because of the cost (although that is a big factor), but also the travel time and distance.
Adventus
provides a solution to the problem for parents who want to provide an affordable music education for their children from the comfort of their own home with their
MusIQ Homeschool
program.
When Adventus first appeared on our vendor list, I was really disappointed, because it looked like a really great program, but the children had broken our keyboard. In order to use the program, you need to have a MIDI piano keyboard. Most keyboards are MIDI capable. They need to have a USB port in order to connect to the computer or a MIDI to USB adapter. Adventus offers a discount on their
M-Audio KigRig 49e keyboard
and I was able to purchase one from them in order to use their program for review. I was so excited!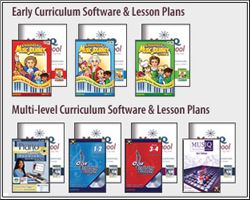 The MusIQ Homeschool Program is an award winning, multi level, interactive program for ages 4-18 and beginning to advanced intermediate piano students. The programs they offer include:
Early Curriculum Children's Music Journey Volumes 1,2, and 3 -
Children's Music Journey is an interactive, animated, fully narrated program for ages 4-10. Each of the levels contain 25-35 lessons (Vol 1 has 25, 2 and 3 have 35) taught by a variety of different composers, 25-35 practice sessions with Ms. Melody, 10 new games for each level, 50 learn to play pieces for each level, and the ability to compose and record your own music using a variety of instruments.
Multi Level Curriculum for ages 10+
Piano Suite Premier
has 5 different skill levels from beginning to intermediate. There are hundreds of narrated lessons on notation, music theory, sight reading and playing. The Learn to Play Library contains 500 different songs from a wide variety of music styles ranging from Levels 1-5. Piano Suite gives instant audio and visual feedback and detailed reporting. You have the ability to compose, edit, save, and print your own music. There is a detailed section on Music History and also a variety of interactive games.
Ear Training Coach 1 and 2, Ear Training Coach 3 and 4
- Ear Training Coach can help students develop their musical ear at their own pace. Students will recognize and play rhythmic passages, retain and play back melodious passages, discern between intervals and identify them, and review musical passages and play them back by sight. It is packed with 1000's of exercises, identifies areas that needs improvement, and provides detailed evaluations.
The computer system requirements are:
Early Curriculum- Windows 7/XP/2000 (It will also run on Windows 8) or Mac OSX
Multi level Curriculum- Windows 7/XP/Vista (will also run on Windows 8)
I am sure after reading all of that, you are wondering the cost. Adventus offers several different pricing options. You can choose a month to month subscription, or purchase the software from them. The month to month subscription includes unlimited access to all of the products I listed above and is only $10.95 a month!
You have to have an internet connection to run the software.
You can see the different pricing options for purchasing the Early Curriculum software
here.
The different pricing options for the multi level curriculum software
here.
You can also purchase the Lesson Plans to go along with the monthly subscription.
You can sign up for a free 7 day trial
here
.
Installation of the software was very easy. I have very slow high speed internet, so it did take awhile (around an hour) for each of the software components to download. Once the keyboard arrived it was very easy to set up within the software and we were ready to go! I am using Children's Music Journey Vol 1 with my 4,6, and 9 year olds completing one lesson per week with practice in between lessons 4 days per week. My 16 year old and I have had a chance to use the different features of Piano Suite Premier.
Children's Music Journey
Children's Music Journey has 5 different learning centers. The first is the lesson room. Each lesson begins with a piece of classical music by the composer who is teaching the lesson. The lessons are interactive and the "teacher" can tell if you have played the correct notes on the keyboard or not. It starts out rather simply teaching about the keyboard itself, high bird notes, low whale notes, and middle C. Children get to compose their own song, hear it played back to them, and see it in pictures. Lessons close with the playing of classical music that the lesson opened with. The Practice Room is another learning center. There, children visit with Ms. Melody to practice what their teacher has taught them in their lesson. There is also a game center where the children can play fun games to reinforce the concepts they have been taught. In the library, children can practice songs they have learned, listen to their teacher's songs, listen to their own recordings, or replay any of the previous lessons. In the Improvisation Room, children have an opportunity to improvise and compose with dozens of different instruments and rhythms and record what they have done.
The Lesson Room
The Practice Room
The Improvisation Room
The Library
The Game Menu
Lily, Christian, and Alex's favorite game!
I love the whole concept of Children's Music Journey! You can use it for multiple children with everyone having their own log in and the program keeps track of what each child has completed. It is so much more than teaching your child how to play the keyboard. They are taught by (and in the process learn about) famous composers. They have an opportunity to learn about and listen to famous classical music. I love the interactive feature of the lessons. Children are given immediate feedback as they complete the task they are asked to do. I love that they get to compose their own songs in the lessons and hear them played back to them. My youngest, Lily who is 4, is always so proud when she is in the practice room with Ms. Melody and they play the song that she wrote! The games are a fun way to practice the concepts the children are being taught. My children love the game where they catch the notes between the buoys. They ask to use Adventus everyday. My biggest problem is juggling keyboard/computer time to make sure everyone who want to gets a chance.
Piano Suite Premier
Piano Suite Premier is an amazing program that teaches children and adults ages 10 and up. It also has 5 different areas. In the piano player, you have an opportunity to choose from 500 different songs by a variety of artists and genres including: classical, jazz, rock, country, and more in levels ranging from 1 to 5. Once you choose your song, you are taken to a screen that shows the music, a keyboard, and art work (if available) of the song. There are a variety of options in the Piano Player. You can change the size of the sheet music, you can choose a tempo, you can have starting hand positions shown. You can change your instrument. If there are lyrics for your song, you can view them. You can choose to practice one hand at a time or both hands at once. My favorite feature is the wait for note feature. This shows you if you are playing the correct notes or not and will not let you move on until the correct note is played. At the end of of the piece, it shows you how many notes you missed, which bars you made mistakes in, and gives you the option to save the recorded piece.
The Theory Thinker has a wide range of music topics from levels one to five. Each topic contains several subtopics. As you complete each subtopic, a check mark is displayed so you will remember which ones you have completed. The lessons are fairly short. After you are taught the lesson, you are taken to the piano player to practice what you have learned. At the end of the topic, there is a list of practice exercises that you can go back and complete.
In the Composer's Corner, you have the ability to compose and record your own music.
History Happens has a huge amount of information on various composers and music.
And last but not least there are 3 games to reinforce what you are being taught.
I have really enjoyed using Piano Suite Premier! I taught myself to play a little keyboard a long time ago, and always wanted to be able to play "for real." I have been using the Theory Thinker a little bit everyday and playing some of the Level One songs in the Piano Player. I am amazed at all of the wonderful interactive features of this program. It is very helpful to have the practice lessons connected to the Theory Thinker so you go right from hearing what to do to doing it yourself. I LOVE that you can customize the Piano Player to whatever you need! Bigger notes, tempo, lyrics, starting hand position, and my favorite of course, Wait for note. You can even mark off certain bars and only play those. I love the immediate feedback that tells you how many notes you missed and where. I like to go back and keep playing until I make 100%.
The only thing that is a little odd about Piano suite Premier compared to Children's Music Journey is that the voices in Piano Suite Premier Theory Thinker are very robotic. They are not hard to understand, just very very "computer sounding."
I am thrilled with the MusicIQ Homeschool Program from Adventus! It is fun, easy for the student and the parent (or the parent student.) It can be used and enjoyed by a wide range of ages. If you choose the monthly subscription, you have access to all the levels to use with multiple children for one affordable price! You can give your children music lessons from the comfort of your own home!
To see what other Crew Mates had to say, click on the banner below.