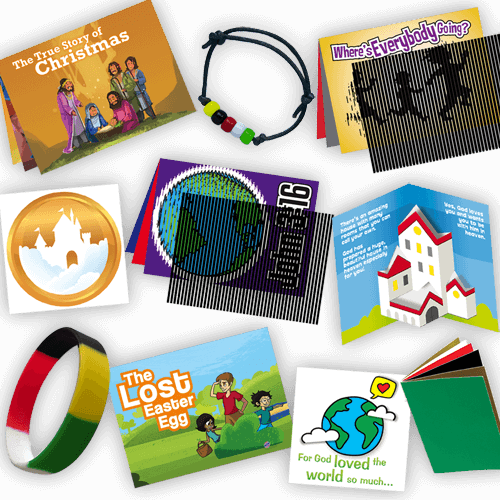 Let the Little Children Come sells a variety of child evangelism tools. Each of the products is designed to appeal to and keep the attention of children while keeping true to the message of salvation through Jesus Christ. The Gospel Tracts and Evangelism Tools Sampler Pack contains 10 of their most popular tools and tracts:
John 3:16 Animated Tract-small colorful booklet explaining John 3:16. When you move the black lined paper in front of the images they move.
Gospel Buttons FlipAbout- By folding and turning this booklet you are able to open four colored buttons to explain the gospel. One represents heaven, one sin, one representing Jesus' death on the cross, and the last how our hearts can be made clean with Jesus.
The Most Amazing House Pop-up Tract-A Pop-up booklet talking about the amazing house in heaven, why we can't get there on our own and what we need to do to get there.
Wordless Bracelet Kit- bracelet with 5 colored beads to string (yellow, black, white, red, green.) There is also a booklet explaining the meaning of each bead.
The True Story of Christmas Animated Tract-Colorful booklet telling about the birth of Jesus. The images move when the black paper is moved in front of them.
The Lost Easter Egg Pop-up Tract- Pop-up booklet telling the story of three children looking for a lost Easter egg. They really want to find it just like God wants us to be with Him in heaven.
John 3:16 FlipAbout- Small booklet that when you fold and flip explains John 3:16.
Silicone Salvation Bracelet- Slip on bracelet that contains the five colors black, yellow, red, green, and white that can help children remember of explain about salvation.
Where's Everybody Going? Animated Tract- Colorful animated booklet that talks about who made the earth, sin entering the world and separating us from God, God sending Jesus, and through belief in him and repenting we can be with God in heaven.
Wordless Book- Wordless book that contains the 5 colors to spread the message of salvation.
The sampler pack contains all of these items in a zipped plastic bag. You can purchase the sampler pack for $11.95 for 1-10 packs, $10.95 for 11-20 packs, and $9.95 for 21 packs or more.
My favorite items in this sampler pack were the animated tracts. I thought they were a wonderful, fun way to spread the message that children would really enjoy looking at. I also like the wordless bracelet. Girls and boys alike of many ages can make this bracelet and wear it to remind them of the message of salvation. The Gospel Tracts and Evangelism Tools Sampler Pack might be a good purchase if you are interested in using items for children in ministry and are not sure which items might suit you best.
To see what my Crew Mates had to say, stop by the
Crew Blog!