The Pencil Grip, Inc
. carries a variety of products including pencil grips, Kwik Stix and Thin Stix paint sticks, fidgets, plus a variety of school and office supplies. Ever since the first time
The Pencil Grip, Inc.
contacted me to review their Kwik Stix, we have been hooked on their products. We were very excited to have an opportunity to review their
Thin Stix Creativity Pack
.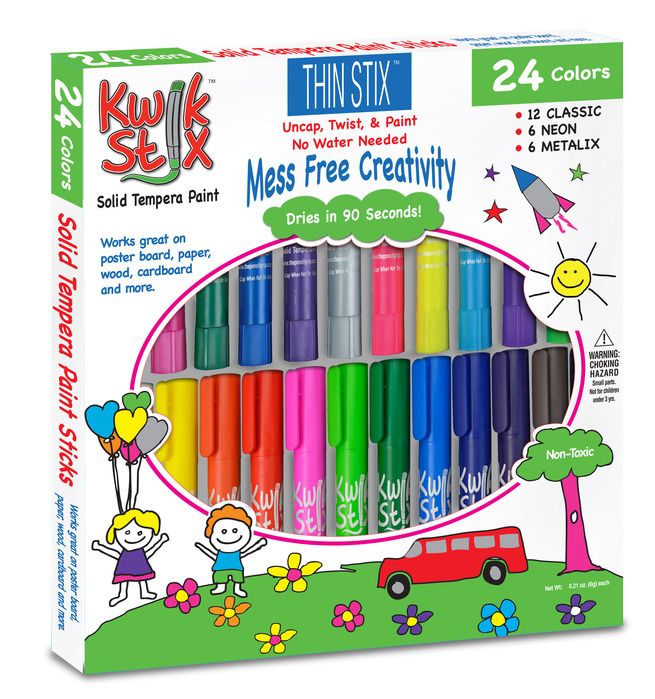 Thin Stix are solid tempera paint sticks that dry in 90 seconds. They can be used on a wide variety of materials including paper, canvas, cardboard, wood, poster board and more. We even painted rocks with them and then hid them for others to find. They are non toxic and washable. They wash off of surfaces, skin, and clothing. No water is needed to use these paints, which means no water to spill and clean up! All you have to do to use them is uncap, twist, and paint. It is true paint and will not crack and peel, and you can use two colors to blend and make new colors or make your colors lighter or darker.
We loved the Kwik Stix when we first tried them out. Kwik Stix are smaller and fatter then Thin Stix, similar to a glue stick. After those were so popular the company released the Thin Stix which are thinner and able to get in hard to reach places and longer. We loved the Thin Stix 6 pack of classic colors that we reviewed earlier in the year. The girls made some amazing pictures, we painted rocks with them, and even made cards to send to kids in the hospital. We wished we had a few more color options though and were excited to see this Creativity Pack. The Thin Stix Creativity Pack has 24 different Thin Stix including 12 classic colors, 6 neon colors, and 6 metalix.
Emmie was practicing writing some of the words she was learning using the Neon Thin Stix. This was a great fun way to reinforce what she had been learning. My photos do not do the brightness of the colors justice.
Lily did some fun pictures.
The colors are bold and bright. We love the shimmer of the metalix and the brightness of the neon colors. All of the other reasons we love Thin Stix still hold true. They are easy to use. You can use them on the go, and if they accidentally paint on the table or another surface it cleans right up with a wet rag. I love how quick they dry. They are great for Sunday School, co-op. or 4 H projects.
We will be using these to paint some Christmas ornaments and decorations very soon!
The Thin Stix Creativity pack has a great combination of colors that children will love. This would make a great gift for the children in your life (and for their parents too!)
To see what my Crew Mates had to say, stop by the
Crew Blog
!