CompuScholar, Inc.
(formerly known as Homeschool Programming) was founded out of frustration over a lack of teaching materials for young students in the area of computer programming. CompuScholar, Inc. strives to create courses that students can understand and non-technical parents can teach. We recently had an opportunity to use and review their newest course,
Digital Savvy
.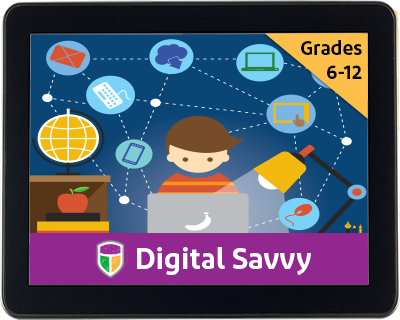 The Digital Savvy course is intended for students in grades 6-12. The course is an online course that you will access through your web browser. When you sign up for the course you choose a name and password, allowing you to access the course from multiple computers. To access the course material you can use any computer that has an HTML5 compliant web browser and internet connection. To be able to complete hands on projects you need to have Windows 7 or higher or Mac OS 10.7 or higher.
There are 25 chapters in the Digital Savvy course that is intended to be completed over the course of the school year. Each chapter is split up into different sections. For each section there is a video lesson, lesson text that can be printed out if you choose, and a quiz. Each chapter has hands on activities to complete and a chapter exam at the end of the chapter. Some of the topics covered in the Digital Savvy course include:
Fundamentals of Computer Software and Hardware
Operating Systems
Computer Files
Maintenance and Trouble Shooting
Computer Networks
Search Engines
Security
Word Processing
Spreadsheet Programs
Presentation Programs
Database Technology
Project Management and Teamwork
Digital Files
Internet Communications
Social Media
Creating Web Pages
Web Page Design
Programming Concepts
Digital Logic
Careers and Professional Skills
Digital Savvy can be purchased as a Self Study or Teacher Led course. The self study costs $15 a month or $120 a year for one student. Extra students can be added for $40 a year. The Teacher Led options which includes one on one messaging with the teacher, teacher graded projects, weekly parent emails, and a certificate of completion at the end of the course costs $35 a month or $300 a year for one student.
I have had my 13 and 15 year olds working on this course. They are completing one section of each chapter per day.
Getting started was very easy. Once we completed our course registration and chose a user name and password, all they had to do was log in and get started.
When you log in, you can see the courses you have access to. They click on that course and it brings up the menu showing the chapter list.
They click on the chapter and can see the sections for each chapter. They then watch the video for the section, read over the text, and take the quiz. The lesson videos vary in length.
At the end of each section there is a hands on project to complete and an exam to take.
The teacher is given a log in as well. I can easily see what they have completed and their grades. I also can access all of the course work and even see the quiz and exam answer keys, although the quizzes are graded automatically.
I have had several homeschool families ask me over the last couple of years if there was a course that I knew of that would teach basic computer skills, and up until now I could not find one that I could recommend, but I think Digital Savvy is exactly what these families were looking for. The course is easy to use and does not require the parent to know a lot about computers or how they work. They do recommend that your child is comfortable using a keyboard and a mouse but you do not have to have any specific computer experience. The lessons are presented in a way that is easy to understand. I love that the quizzes and exams are graded automatically. I am glad they present the information in a video format, but also have the text that can be printed out or read from the screen. Hands on activities give your child a chance to practice what they have learned.
I have been very impressed with Compuscholar, Inc. and their course selection. We used one of their other courses several years ago but they have made updates and changes that I think have made their courses even better now. I love that the new courses are online and that they have added a new month to month pricing option. I will be using Digital Savvy on Nick's transcript for a credit in Information Technology Fundamentals and will be looking at using other courses in the future.
Members of The Crew also reviewed
Web Design
and
Java Programming
. To see what my Crew Mates had to say, stop by the
Crew Blog!