Are you looking for a fun way for your children to learn their times tables? Over the last several weeks, we have had an opportunity to use and review
Times Alive
from
Times Tables the Fun Way.
Knowing math facts is a skill that every child needs to learn. Times Alive uses online lessons with animated songs and stories to learn times tables the fun way. The program is based on the book Times Tables the Fun Way. It teaches the times tables from 0-9.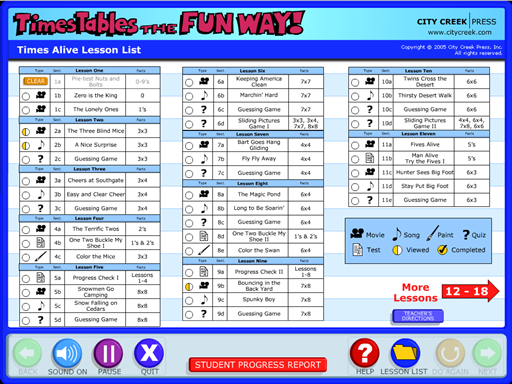 Each lesson uses cartoon characters and a story to teach the lesson. After the story a catchy song and music video is sung about the story. Then the student gets to show what they learned by answering questions about the multiplication fact. There are also interactive games and quizzes to show what your child knows.
After purchasing the online version of Times Alive, you will be emailed an activation code. After activating your subscription, you simply go to
timestablesthefunway.com
and log in. Several students can use the same subscription. Once you log in with a certain computer and browser, in order to save the progress your child has made they must always log in with that same computer and browser. The program tracks the child's progress and each time they log in they can start where they left off. The progress report shows the date the lessons are completed, the score on the quizzes, and how long it took to complete them.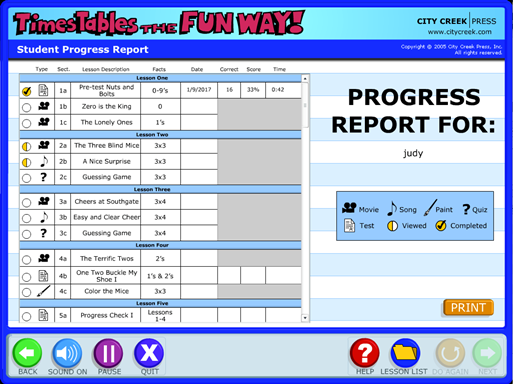 I have been using Times Alive with Anthony (11) and Christian (9.) They have been working on one section per day 2-3 days per week. It usually takes 15-20 minutes to complete most sections.
This is not the first time I have reviewed Times Alive. I actually reviewed the download version back in 2011 with Nick and Alex who were 7 and 9 at the time. They loved Times Alive and it really helped them memorize their multiplication tables. The computer I downloaded it to died a long time ago so I was happy to have an opportunity to review the online version with Anthony and Christian.
I think the songs and stories are a great way for children to learn their facts. The songs and videos are very catchy and I have found myself singing them at various times during the day. I like the inclusion of quizzes. I don't know that the songs and stories by themselves would be enough to cement the math facts in their brains. Being asked to answer questions about the facts right after learning them and completing the quizzes have made a huge difference in their memory retention. They think the online coloring is fun too.
I wish that the logging in system was different. The way it is set up, you have to use the same computer and browser each time or you loose your progress. I discovered that even when you use the same computer and browser it is still possible to loose your progress. My cookies were cleared on my web browser and next time we logged in it showed that Christian hadn't completed any lessons. I did not make him redo them, he just picked up where he left off but that can be frustrating for children. I would like to be able to log in on different computers as well without loosing track of their progress.
To see what my Crew Mates had to say, stop by the
Crew Blog
!