Doesn't a treasure hunt sound like fun? We recently had an opportunity to use and review two different hunts from
Clued In Kids
:
Halloween Treasure Hunt
(printable) and
Soccer Treasure Hunt
(printable.)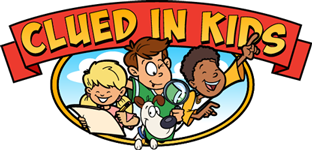 Clued in Kids offers a variety of both printable and physical hunts that can be used by a variety of ages. Most can be used by children ages 4 and up. Teens can coordinate the hunts for their younger siblings, or they can use them together making it a great product for families or different kinds of group activities (church, 4 H, scouts, birthday parties, etc..) The hunts promote teamwork as well as having children use skills such as reading, math, logic, and social studies.
The hunts take less than 10 minutes to set up. Then the children are given the first clue. On that clue there may be a riddle, scrambled words, word puzzle, math activity, or other activity that will tell the location of the next clue when the children solve it. Once they get to the next clue, the process continues. A few of the clues are not hidden but kept with the hunt coordinator to give to the children after they do a specific assignment (for our soccer hunt it was dribbling a soccer ball while saying woo, woo.) Once the children figure out the last clue, it tells them the location of the treasure. The treasure can be whatever the coordinator wants it to be. I bought $1 six packs of small candy bars for my children's treasures, but things like stickers, pencils, small toys, or if you were doing a birthday party little gift bags would be fun too.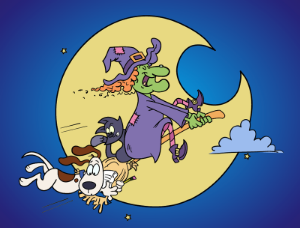 The printable hunts that I received are $5.99 each. Both of them are for children ages 4 and up. They come in PDF format and simply have to be printed out, cut apart, and hidden. Clued in Kids also offers some printed hunts as well that cost $8.99, hunts that come in a gift card for $9.95, and other options as well. The hunts the Crew reviewed include:
Holiday/Seasonal
Thanksgiving
Winter
Halloween
Nutrition Themed
Happy Tummy Treasure Hunt
Gluten Free Treasure Hunt
Educational Related
Homework Reward Treasure Hunt
Multiplication Dragons
Sports
Soccer Treasure Hunt
Baseball Treasure Hunt
Clue Pad Products (physical)
Christmas Treasure Hunt in a Greeting Card
Playdate
Pirate
Princess
Slumber Party
Plus there are many, many more available!
I used the Clued In Kids hunts with my 3,5,7,9, 11, and 12 year olds. As I noted above, I received the Halloween and Soccer printable hunts. I printed them first on my black and white printer to save on ink, but it just didn't look that good in black and white. So, I went ahead and printed it in color. I grabbed some $1 candy snacks for prizes, cut the cards apart and it only took a few minutes for me to set up the hunts.
Since we were in the middle of soccer season, we did the soccer one first. I followed them around and took lots of pictures.
When they did the Halloween hunt, I had some things I needed to do, so I hid the clues and set them free to do it on their own.
I found the hunts were very easy to set up, and also easy to modify if necessary. For example, one of our clues were supposed to be hidden with napkins. We do not use napkins so I hid it with paper towels instead and just told the children when they solved the puzzle for that clue. There was a great variety of the activities involved in solving each clue. I love the different themes that Clued In Kids carries, and that an answer key is included with each hunt.
The children thought the hunts were great! They were very excited to do both of them and asked when they could do it again. They did a good job working together and taking turns finding the clues, and of course they loved the treasure at the end!
Having such a wide age range in our family was very beneficial because the older boys could solve the puzzles for the younger children, but if you had a group of younger age children, an adult would have to help them with some of it, I think the math puzzles were the most difficult.
We did have trouble with one clue in the Halloween hunt. There is one that is a picture that you have to locate a household object in. Even knowing what I was looking for did not help me find it. None of the children could find it either. I think it needs to be a bit more obvious. Luckily the key gives the answers and I just told the children where the next clue was.
To see what my Crew Mates had to say, click on the banner below.