Last year, I was introduced to Logic of English for the first time when we had an opportunity to review Foundations, Level A. We loved it and I was more than excited to have an opportunity this year to review another one of their wonderful products, Essentials: Logic of English Complete Set.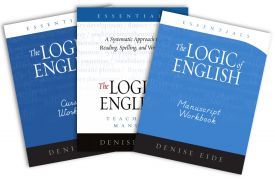 Essentials: Logic of English complete set is for ages 7 to adult. This program teaches how to spell, read, and write by providing phonics instruction that makes sense and is logical :), fluency practice, vocabulary, grammar, and composition.
The Essentials: Logic of English Complete Set costs $243 and contains:
Essentials Teacher's Manual- Hardcover 612 page book containing step by step instructions for the instructor to teach each lesson.
Essentials Student Workbook (available in cursive or manuscript)-Paperback 484 book with perforated pagers for easy removal. This book contains discovery based learning activities, phonogram games, editing practice, fluency activities, spelling games, word sums, and worksheets for the student to complete their lessons. The workbook is available in cursive or manuscript but it does not teach cursive so you would only want to choose cursive if your child already writes in cursive.
Spelling Journal-Paperback 64 page book designed to be a place where your child can record commonly misspelled words categorizing by correct spelling or phonogram rule.
Basic Phonogram Flash Cards-4.5x6 inch cards containing 74 single and multi leter phonograms with sample words and spelling aids for quick teacher reference.
Spelling Rule Flash Cards-4.5x6 inch cards containing 30 spelling rules.
Grammar Rule Flash Cards-4.5x6 inch cards to review parts of speech and grammar rules. There are 83 cards in this set.
Advanced Phonogram Flash Cards-4.5x6 in cards containing 35 advanced phonograms
Game Book-96 page paperback book containing 40 phonogram games, 37 spelling games, 11 game templates, 18 phonogram bingo cards, and 10 phonogram tic-tac-toe cards plus instructions for playing the games.
Game Cards Deck-2.25x3.5 inch cards that has 74 phonogram cards and 15 game playing cards. These cards are available in green cursive, red manuscript, and blue bookface. 2 decks are recommended.
Phonogram and Spelling Rule Quick Reference Chart-a fold out chart that gives quick reference to 30 spelling rules, all the phonograms, sounds, sample words,suffix flow chart, and a sound to spelling reference chart.
You do have an option to customize the curriculum and buy the components separately if you would rather.
You can view all of the individual prices on this page.
Sample pages are available for the Teacher's Manual and Student Workbooks in cursive or manuscript.
Essentials can be used with anyone ages 7 to adult who wants to improve their reading, spelling, and writing abilities. Before beginning the program students should have developed phonemic awareness, learned all the sounds for A-Z phonograms, and learned to write the A-Z phonograms. The program will teach how and why English words are spelled the way they are and how to build them into sentences and phrases, showing students how to decode, spell, and write. There are suggested lesson plans in the Teacher's Manual for working with a variety of ages and abilities including struggling readers and spellers, struggling spellers, emerging readers and spellers, young emerging readers, and ESL students. Essentials has 40 lessons and a variety of multi sensory activities to suit different types of learners.
I used Essentials with my 7 and 8 year old boys. I modified the suggested schedule for emerging readers and spellers to fit into our 4 day a week school schedule and spent around 30-40 minutes per day on our lessons. I purchased an extra student workbook as each student needs to have their own.
I have to admit that when I saw the size of the Teacher's Manual it was a bit overwhelming. But, after reading through the introductory materials I decided to just dive in the next day. Teaching the lessons was very easy. A quick glance at the needed materials and a few minutes to gather them was the only advanced prep I needed to do. The Teacher's Manual tells you step by step what to do and is very easy to follow along with. The lessons are split into 3 parts. The first part has three components: Phonograms, Exploring Sounds, and Spelling Rules. The second part is the introduction of words through spelling dictation and analysis. The third part has four components: Grammar, Dictation, Composition, and Vocabulary Development. We did one part per day adding in some review and a game and reviewing on day 4.For the phonogram dictation, I used the Phonics With Phonograms app that I had an opportunity to review last year. This app says the sounds very clearly and just the way the students are taught in the program and the boys liked hearing the sounds on the app. It also is great reinforcement for them to play the game on the app.
Essentials breaks everything down for the student (and the teacher) and helps make logical sense of the English language by teaching all of the phonogram sounds and spelling rules. I really like all of the visual components. The flash cards are great tools to allow the children to see and remember the different rules and phonograms. I do need to come up with a better system for keeping them organized though. We really liked the variety of activities. The different games were the boys most favorite part of using this curriculum. In addition to the games in the phonogram game book there are also games and activities in the student workbook as well.
I really like how easy it is to customize the program to suit your needs or your children's needs. You decide how much or how little to complete every day. If your child is struggling with a certain concept you can slow down and spend more time on review. If your child understands and is ready to move on you can move on. There is also plenty of review throughout the lessons and every five lessons there is an assessment and review lesson.
This is not a curriculum you can hand to your child and let them do on their own. You will need to sit and work with them everyday. But, as I mentioned before the amount of time spent per day will vary depending on the age of your child and how quickly you want to get through it.
The only part of the program that I thought was lacking was that I wished there was a reading component. I wanted something that the boys could read aloud to go along with what they were learning in their lessons. I see though that Logic of English has an early release version of an Essentials Reader to go with the Essentials program.
You can also read my review of Foundations A.
My Crew Mates reviewed a variety of products from Logic of English. Hop on over to the Crew Blog to see what they had to say by clicking on the banner below.