Technology has really changed the face of homeschooling. Many families have tablets that they allow their children to use to do different kinds of schoolwork and play educational and fun apps. After spending a lot of money on these devices, they need good strong cases to protect what they have purchased. I was recently given an opportunity to use and review the KRAKEN A.M.S. Case For Apple iPad 2/3/4 from Trident Case.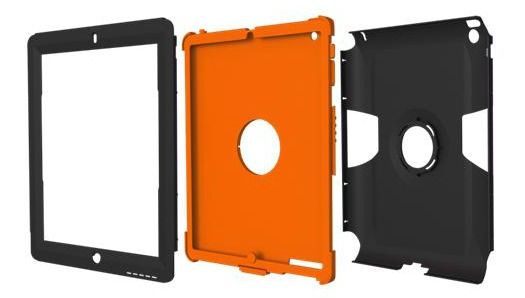 The Kraken A.M.S. Case For Apple iPad 2/3/4 is compatible with the New iPad, iPad 2, iPad 3, and iPad 4. It comes in a variety of colors including: black, maroon, orange, purple, Trident green, red, pink, and blue. The case is the strongest, most durable case that Trident makes. It contains an absorbent, shock absorbing silicone inner layer, covered by a hardened polycarbonate outer casing, and has a built in screen protector. It also has silicone plugs and dust filters to cover and protect power ports, audio jacks, and speakers. The cases contain a technology that redirects sound to the front of the tablet for a better listening experience. The Kraken A.M.S. cases meet military standards for drop, vibration, dust, and sand. It is made out of bio-enhanced plastic making it eco-friendly. The case can be purchased for $69.95 and is suitable for all ages. There are additional accessories you can purchase if you choose such as: stand holder, windshield mount, bike mount, hand strap, and more.
There are several other devices that Trident makes the Kraken A.M.S. case for including the iPad mini, the iPad AIR, iPhone 5 and 5s, Kindle Fire HDX 7 and HDX 8.9, and Samsung Galaxy Note 8.0 and 10.1.
I have an iPad 2 and I chose the purple Kraken A.M.S. Case for Apple iPad 2/3/4.
There are 8 of us that all share this iPad ages 3,5,7,8,10,12 17, and 36. With the children passing it around and the fact that we have ceramic tile floors, I need a case that is going to be very sturdy because it is going to get dropped and be handled roughly. Our iPad gets a ton of use and we take it with us on the go a lot, so I need something that is going to last a long time as well.
When our Kraken A.M.S case arrived, my 12 year old had it put on the iPad in a matter of minutes. I really liked the look and feel of the case, and I loved the color. I was glad that it had the built in screen protector. My favorite feature is the covers over top of all of the ports and plugs. Over the last several weeks the ipad has been dropped and passed around numerous times and the case has protected the iPad from the children being children well.
One thing we have noticed with the case is that the corner pieces seem to come out quite a bit and we have to keep pushing them back in. Also, even though I loved idea of the built on screen protector, it didn't take long at all for it to get scratched and dirty. I wish that the screen protector itself was as durable as the rest of the case.
To see what my Crew Mates had to say, click on the banner below.