As part of the Schoolhouse Review Crew, I have been greatly blessed to review a wide variety of products from Apologia Educational Ministries. Although they are most commonly known for their science curriculum, they also offer a variety of books and resources for homeschool parents and worldview curriculum. Recently we had an opportunity to use and review the What on Earth Can I Do? hardback book, What On Earth Can I Do? Notebooking Journal, What On Earth Can I Do Junior Notebooking Journal, and What On Earth Can I Do? Coloring Book.
What On Earth Can I Do? Is the 4th book in the What We Believe Series. Each of the 4 books in the series are stand alone books and do not need to be taught in order, but you can teach them in order if you wish. Vol 1 Who Is God and Can I Really Know Him? teaches Biblical worldview of God and truth. Vol 2 Who Am I and What Am I Doing Here? teaches about the Biblical worldview of self and images. Vol 3 Who Is My Neighbor and Why Does He Need Me? teaches the Biblical worldview of servant hood, and Vol 4 What On Earth Can I Do teaches the Biblical worldview of stewardship. This series was designed for grades 1-6, but it can be used with children a little older and younger siblings can listen in as well. Depending on how much you complete each day you can complete a book in 4-8 months.
There are 8 lessons in What On Earth Can I Do?:
Lesson 1: Your Story or God's Story?
Lesson 2: Who Put You In Charge?
Lesson 3: Will You Be Found Faithful?
Lesson 4: Where Is Your Treasure?
Lesson 5: Where Does Your Time Go?
Lesson 6: Whose Life Is It Anyway?
Lesson 7: Why Isn't It Easy Being Green?
Lesson 8: What Will Happen When the Master Returns?
Each lesson has several different components.
The Big Idea-Introduction to the main topic of the lesson
What Will You Do?-learning objectives for the lesson
Short Story-story featuring characters your children can relate to showing children what a worldview looks like in action.
Think About It-questions that dig deeper into the short story
Words You Need to Know-vocabulary words and definitions
Hide It In Your Heart-2 Bible verses for memorization
Integrated Learning-articles designed to help students pursue the book's ideas across the fields of science, math, art, history, and more.
What Should I Do?-helps students apply the lesson to their own lives
Prayer-helps children acknowledge the gifts of God and thank Him for all He has done
Parable of Jesus-a story adapted from a teaching story Jesus told during his ministry. These stories are faithful to the teachings of Jesus but do add in details such as character names and cultural details.
Going Deeper-discussion questions about the parables and what they mean for us today
House of Truth-4 lessons end with a House of Truth addition. The House of Truth is meant to be a hands on memory aid
Now that you know a little about what the book is about, let's look at all of the individual components we used for our review.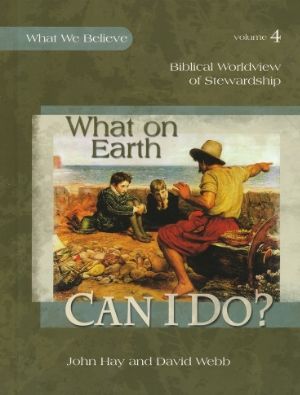 The What On Earth Can I Do text book ($39) is a 294 page hardcover book. This book contains all of the lessons as listed above. It is the only book that is absolutely needed for this course. There is no teacher book, everything you need to teach is contained in the text book.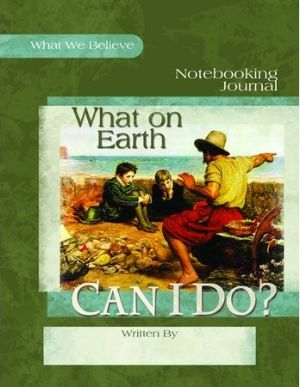 The What On Earth Can I Do? Notebooking Journal ($24) is a 236 page spiral bound paper back book. The notebooking journal is a place where your child can store all of his work for the course. In it you will find: blank note-taking pages, think about it questions, words to know definition pages, hide it in my heart copywork pages, make a note of it, word puzzles, mini books, my prayer, praise report pages, I Spy pages, Living Out Loud, do you remember questions, and find out more resources. There are also lesson plans you can use as a guide. Even though the course is flexible and you can do as much/little as you wish these pages come in handy if you want a schedule to follow or just want to keep track of what you have completed.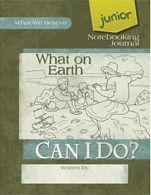 The What On Earth Can I Do Junior Notebooking Journal ($24) is a spiral bound 184 page paperback book. This book is similar to the regular notebooking journal but was made with 6-9 year olds in mind. In it you will find blank note taking pages, coloring pages, words to know fill in the blanks, make a note of it drawing pages, word puzzles, mini books, my prayer, praise report, I Spy, Living Out Loud, and find out more resource list. It also contains lesson plans to follow.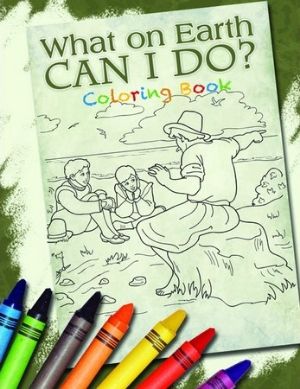 The What Can I Do Coloring Book ($8) is a 64 page paperback book. This book contains beautiful illustrations for younger children to color while listening to the book being read that will help reinforce the stewardship lessons being taught.
I used What On Earth Can I Do? with my 3,5,7,8,10, and 12 year olds. I followed the suggested schedule in the notebooking journals. I read the text aloud to the children. My 10 and 12 year olds worked on the regular notebooking journal together, my 7 and 8 year olds worked on the junior notebooking journal together, and my 3 and 5 year olds did the coloring pages in the coloring book and the junior notebooking journal.
I have had an opportunity to review each of the other books in the series, so I was very excited to be able to review this set as well. When you are teaching a wide age range of children, it can be hard to find products that you can use with everyone. I really like that Apologia has developed a set of products for this curriculum so that everyone in the family can participate. The notebooking journals are a beautiful place to keep all your children's work in one place and provide a variety of interesting activities to reinforce what your children are learning. The coloring book is just perfect for the little girls to give them something to do while I am reading. The illustrations are beautiful! The Junior Notebooking Journal is great for that 6-9 year old range who are old enough to do something on their own, but not old enough to work in the regular notebooking journal yet. My Anthony was so proud he completed a word search all by himself!
Here is a look at some of the different journal pages
Junior
Regular


Regular
Junior
Some of the activities are the same in both journals.
I really like the way the lesson plans break down the lessons. The chapters are a bit lengthy and by just looking in the text it can be hard to find a good stopping place or figure out what to do when. The lesson plans break everything down into nice digestible chunks. You do not have to do every page in the journal or every mini book if you do not want to. You can pick and choose the activities if you would rather.
As for the lessons themselves, I don't know that I can adequately explain how much I love them! It is an important thing for children to learn how and why they need to be good stewards. The book is written in a very conversational tone and the contents are relevant and interesting while teaching these important truths. I love the interesting science, history, math, and art information that is presented throughout the book. The short stories that we have read through in the book are about a family during WWII and I have to tell you that I think my children have learned more about this time period through this study than they did in our American History course this year. Not just things like names and dates, but what it really looked and felt like to be there and going through it at the time. The Parables of Jesus do stay true to the parables written in the Bible, but they do add names, feelings, and some details. I think the inclusion of these parables helps the children gain a better understanding of the topic they are studying in the book. We do always go back to the original written in the Bible and compare the two, but the children have enjoyed reading them as written in What On Earth Can I Do?
One thing I did want to mention is that even though the age range says around grades 1-6, and there definitely are things that children in those age ranges can do with the coloring book and the junior notebooking journal, if I just had children in the younger range, I would hold off a few years. I think the best age for this study is 10-12 or so. Because I have children in the older range, I am thankful that there are activities for the younger ones to tag along and do. They do get something out of the readings and activities, but the best conversations and understanding has definitely been with my two older boys.
To read what my Crew Mates had to say, click on the banner below.