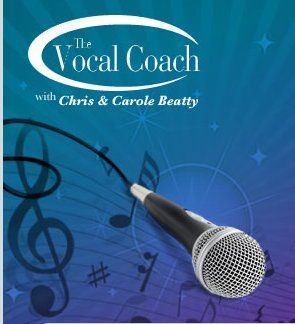 Chris and Carole Beatty creators and founders of
Vocal Coach
have taught and coached singers for over 40 years. In addition to offering personal lessons and seminars, they also have products that have been designed to be used in a home setting. We had an opportunity to use and review the mp3 version of Vocal Coach Singer.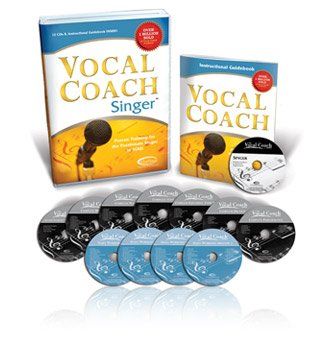 " You can become a better singer today with the most complete instructional singing systems available. Whether you are a beginner or a professional, Vocal Coach Singer teaches and builds upon the fundamentals essential to an accomplished singing voice. From posture to performance our tested and proven techniques will help you deliver your songs with consistency and confidence!"
Vocal Coach Singer
contains over $2000 worth of personal coaching time. Their step by step easy to follow singing lessons will make it easy to gain more power, clarity, and confidence in your singing. This course, designed for older children and adults, will help you be able to sing your best and teach you to maintain your singing voice for years to come. Vocal Coach doesn't teach a particular style of singing, but instead will teach you to master the principles of vocal muscle memory which allows body parts to produce excellent sound and amplification.
Vocal Coach Singer includes:
7 Training CDs:
Getting Started
Complete Breathing
Complete Warm-Up
Complete Tone
Complete Expanding Your Range
Complete Diction
Complete Performance
4 Workout CDs:
Daily Workout High Voice 1 & 2
Daily Workout Medium/Low Voice 1 & 2
Plus these great educational tools:
Guidebook – Full-size Instructional Guidebook to Ensure Success
Printable Lead Sheets – each exercise in our course, plus track lists
Personal Singer's Journal (Getting Started Journal &; Workout Journal) to Track Your Progress
Vocal Coach Song Evaluation – Evaluation form to enable you to make more intelligent song selections
Vocal Coach Singer
is available on CD's for $119.99 or mp3 for $99.
My teenage daughter loves to sing. She sings in the church choir on Sunday mornings, around the house all of the time, and even has sung in a 4 H competition a time or two. Voice lessons are not a possibility for us because of the distance we live from town and the cost of the weekly lessons. I was excited that there was such a thorough product that she could do at home to improve her singing voice. The lessons are easy to follow and complete. The teacher's are very personable and interesting (and sometimes funny) to listen to. I really liked that Vocal Coach isn't teaching how to sing a particular style, but instead how to properly exercise and get the most out of your singing voice. The printable Pdf's help you to be able to see and hear the lessons. A printable singer journal helps the student to track and evaluate their progress. In addition to all of the breathing, diction, expanding your range and other singing exercises I thought the section on Performance was outstanding.
The voice is an instrument, and anyone can learn how to sing well and improve their singing voice. Vocal Coach makes it easy and economical to learn how to improve your singing voice, properly train and maintain the vocal instrument, and better your performance right from the comfort of your own home.
To see what other crew mates had to say click
here.
Disclaimer: I received a complimentary downloadable version Vocal Coach Singer
for the purpose of writing a fair and honest review. I received no other compensation.