Institute For Excellence In Writing
has been very well known in the homeschooling community for their excellent writing curriculum for older students. Recently they have developed a program called the
Primary Arts of Language (PAL)
based on Anna Ingham's award winning Blended Sound Sight System of learning. PAL provides everything you need to teach your primary aged student (K-2) reading and writing.

I had heard lots of great things about IEW, and even had listened to one or two of Andrew Pudewa's talks, but I had never used any of their products. When the opportunity to review PAL came up and I started doing research on the product and listening to the
WEBINAR
, I was AMAZED! After receiving PAL and having the opportunity to use it with my 5 year old, I cannot imagine a better more complete way to teach my children to read and write. In fact, I kind of feel like my older children were cheated because they did not have an opportunity to use PAL and learn to read and write in such a fun and engaging way. This review may get a little long because there is so much to talk about, but hang in there, it is worth reading.
PAL has two separate parts, reading and writing, that are designed to be used concurrently, but you can choose to use them separately.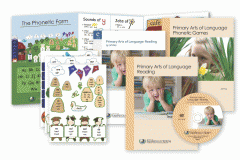 PAL: Reading
"Using poetry, the reading portion of the Primary Arts of Language teaches phonics and whole words. Students are introduced to letters through letter stories and discover the vowel and consonant pairs that help us read. Daily games played during "Activity Time" reinforce the phonetic concepts so that a student can know them completely." The
PAL Reading complete package
includes:
PAL Reading Teacher's Manual
PAL Reading DVD Rom
containing: Instructional video by Jill Pike, The Four Language Arts mp3 audio by Andrew Pudewa, Poetry as an Integrator mp3 by Anna Ingham, Nurturing Competent Communicators mp3 by Andrew Pudewa, Intro to the Blended Sight Sound Program mp3 by Anna Ingham, PAL Reading student book (e book)
PAL Phonetic Games Book
PAL Phonetic Farm Folder with Stickers
The cost of the package is $69. You can also purchase items separately. Click
here
to order.
See a sample of the Teacher's Manual
here.
See a sample of the student pages
here.
See a sample of Phonetic Games
here.
PAL Reading has four different stages.
Stage 1
:
Foundations
During Foundations the teacher is the center of learning helping your student build a strong foundation in phonics and whole words. Poetry is the centerpiece of each lesson. Each poem will be read for several days and used for many purposes. Students learn sounds through fun letter stories. The Phonetic Farm is a fun place where students add colorful stickers as they learn the phonetic rules. Phonetic Games made from the Phoenetic Games Book and file folders are used to give your students plenty of fun hands on practice with phonograms and sight words. The Card Game makes practicing sight words fun and easy
.
Sight words are printed on a 3x5 card with the phonograms marked to help students identify them.
Beginning in this stage and continuing through Discovery daily work pages are completed. Cut and paste activities helps reinforce the lessons and a reading practice page provides a few sentences for reading practice from the vocabulary that has been taught.
The amount of time spent in Foundations can be several weeks or much longer depending on the child.
Stage 2: Activity Time
Around lesson 19
a 30 minute activity period can be planned for each day to reinforce what has been learned. You continue to teach new phonograms, words, and games while your student practices what he is learning through games and his work period. Your child continues to play 30 minutes everyday until you are sure he has mastered the phonetic rules reinforced by the games. This can take anywhere from 2-4 months or even longer. Mastery of the rules is very important and can't be rushed.
Stage 3: Discovery
Once your student masters the phonetic rules by playing the games in Activity they are ready to move on to Discovery. Instead of playing games for 30 minutes they will spend that time working through Discovery Card packs. The student works on decoding 10 cards at a time. Students usually take 2-4 weeks to work through the 30 packs of cards.
Stage 4: The Library
Once they master the words in Discovery students move on to spending 30 minutes a day reading beginning level books aloud to a partner. As their confidence in reading grows the difficulty of books can be increased.
PAL Writing:
" The writing portion is divided into three parts: printing, copy work, and composition. Spelling is included throughout the course. The printing section provides an entire handwriting program to teach your student how to correctly form his letters. The copy work exercises will make printing automatic in preparation for the composition lessons, which will gently teach your student to write stories and paragraphs with style." The
complete package
includes:
PAL Writing Teacher's Manual
PAL Writing DVD Rom
containing: Instructional video by Jill Pike, Reading Comprehension mp3 by Adam Andrews, Dictation, Narration, and Public speaking mp3 by Andrew Pudewa, The Four Language Arts mp3 by Andrew Pudewa, PAL Writing student book (e book)
All About Spelling Basic Interactive Kit
All About Spelling Level One
Bonus e audio downloads
: Units one, two, and three In the K-2 Classroom mp3 by Shirley George, Preparing the K-2 Writing Environment by Richelle Palmer
The cost of the PAL Writing Package is $89. Components can be purchased separately. Click
here
to order.
See a sample of the Teacher's Manual
here.
See a sample of Student Pages
here.
See a sample of All About Spelling
here.
PAL Writing is divided into 3 parts.
Part 1: Printing and Story Summaries
Introduces printing and story summaries and takes about 30 minutes per day to teach. The Story Sequence Chart is used to retell short stories.
Part II: Copy Work and Style with All About Spelling
Printing will become automatic through copy work. Style enrichment lessons will gently introduce the basic parts of speech and give your child opportunity to play with stylistic techniques. All About Spelling, a multi sensory spelling program presented in 24 steps will be begun. Daily story summaries will continue.
Part III: Composition With Style
The composition lessons focus on the IEW Teaching Writing: Structure and Style Units 1-3 and 7.
Unit 1: Key Word Outlines
Unit 2: Summarizing From Notes
Unit 3: Story Writing
Unit 4: Creative Writing
There are a few things you will need to go along with PAL:
Manila File Folders (at least 35)
3x5 cards (2 packs)
A box or crate to keep files in
crayons, markers, colored pencils, comfortable pens, scissors, glue, tape, black Sharpie
3 ring binder with 5 tab dividers
a notebook (composition or spiral bound)
3x5 card box
wide ruled notebook paper
magnetic whiteboard (optional for using with AAS)
printer paper and ink for printing student pages
The Phonetic Farm
This is how the reading and writing works together. Each section you work through fairly quickly. I am going to use Lesson 1 as an example. First you read the poem September. Next you write in your class journal. Then you introduce the days letters (lesson one was a, c, and o)by teaching the letter stories and writing them on a whiteboard. Then your child practices the letters on the whiteboard and then paper. Next you read aloud a story (lesson one was Goldilocks and the 3 bears) and use a story sequence chart to help the student summarize the story. Then you move on to the Phonetic Games (in lesson one you play #1, 2, 3, and the card game.) The next activity is to put your stickers in the phonetic farm folder. Then your child does his agenda work (worksheets from student book.) Later on in the day you briefly go over the phonetic farm and give an informal "spelling test" to reinforce the sounds your child learned that day.
Christian practicing his letters on a whiteboard before moving to paper.
I have been using PAL reading and writing with my son Christian who is 5 years old. This is his first experience doing any kind of formal schoolwork. He had no prior reading or writing experience other than listening to me read aloud. We take two days to complete each lesson. He loves PAL! He asks to do it even on the weekends! He loves the letter stories, the phonetic farm, and the games especially feeding Mugs. He also really loves the stories and doing the story summaries. He already has learned so much over the last 6 weeks and can't wait until he learns all his sounds so he can start reading books.
Feeding Mugs
What I LOVE about PAL:
Reading and writing are taught together.
The teacher's manual is very well written and easy to follow.
The program is very easy to teach.
The teacher's manual is spiral bound and lays flat on the table.
The letter stories are so much fun and make children want to learn.
The inclusion of poetry.
The inclusion of short stories and story summaries.
The file folder phonetic games are absolutely wonderful and provide a hands on fun way for children to learn.
The phonetic farm is a fun, exciting, and colorful way for children to learn and remember phonetic sounds.
The program is very flexible! You can go at your child's pace. Lessons can take one day or several days. You can use the poems and stories provided for you or choose to use your own. You can print the student pages for the handwriting worksheets or use notebook paper.
The program can be used with multiple children (although each child may want their own phonetic farm.)
Because the student pages are an ebook, you can print as many pages as you need for more practice, or multiple students. (they do offer a printed copy of the student books if you'd rather purchase it printed.)
All About Spelling is a wonderful multi sensory spelling program and I am so glad they have included level one to go with PAL. I have not yet reached the section in PAL where you start working with All About Spelling but have used it with two of my other children and can highly recommend it!
Letter Stories
There are a few things I wished I had done differently at the beginning. First, when you box comes, do not start looking at everything and panic. Stop. Take out the DVD Rom in the Reading Teacher's Manual and watch the instructional DVD. After listening to Jill explain it all it will make sense to you and you will see how it all comes together! The first day, I tried creating the file folder games with Christian. There were three games we needed to do that day. It made me very stressed and him very impatient to try and put the games together with him. I also noticed that they were not as sturdy as I wanted them to be. I bought some laminating sheets and spent a whole Saturday laminating all of the game boards and pieces. Then I used double sided tape to tape the boards into the file folders. This made a huge difference in both the appearance and the sturdiness of the file folder games and I don't feel rushed during lesson time because all I have to do is cut out the new pieces we learn that day and add them to the game. The first few days I was determined to get one lesson done each day, but I noticed that Christian would start getting tired a little more than halfway through the lesson and really wasn't focusing as much as he should've been. By dividing the lesson in half and taking two days to complete one lesson he has been able to absorb everything much better.
Mugs did got get laminated and is already starting to be a little beat up
The laminated games look a lot nicer and are a lot sturdier.
PAL is very teacher intensive, especially at the beginning. Some people might see this as a negative, but I really enjoy spending this one on one time with Christian. I think it is really interesting too that when my older children are listening in when I am teaching and comment on how fun they think the program is. I really do wish that this had been around when they were younger, but now that I know about PAL I will be using it with my younger children and even have used some of its ideas (like telling the difference between b and d) with my 7 and 9 year olds too.
working on his agenda worksheet
To see what other crew mates had to say click
here
.
Disclaimer: I received a complimentary copy of PAL for the purpose of writing a fair and honest review. I received no other compensation.