My boys have been having so much fun with our latest review product:
Stopmotion Explosion Animation Kit
from
Stopmotion Explosion
.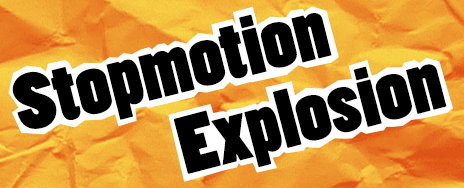 The Stopmotion Explosion Animation Kit includes:
290 page Stopmotion Explosion: Animate ANYTHING and Make Movies paperback book
Animation software compatible with Windows XP, Vista, 7,8,10, OS X 5.1+
720p HD video camera with internal microphone, manual focus, and clip
Stopmotion Explosion Animate ANYTHING and Make Movies book is divided into 17 chapters:
How Movies Work
Animation Actors
Creating Stories
Building Sets
Cameras
Lighting
Composition
Animating
Flight
The Art of War
Sound
Video Editing
Files and Formats
Frame Conversions
Sharing Your Animations
Animating with DSLRs
What Next?
The book is illustrated and and full of black and white photos showing what is being explained. Within the chapters of the book there are several links to video tutorials on the Stopmotion Explosion website and links to other websites for different things to use in your films.
I was so excited to have an opportunity to use this with my boys. When the package arrived we had no trouble loading the software into our Windows 10 laptop and hooking up the camera. They were very eager to get started so we read through the quick start guide and tested it out with a short film. Then the book disappeared for a few days while they read through it. They had some amazing ideas f and wanted to read through the book to figure out how to do some of the different effects and build some sets.
The Stopmotion Explosion books talks about how you can animate anything. My boys are big LEGO fans so that was their main choice of objects to animate. Anthony wanted to work on a dinosaur movie so I picked up a $3 pack of plastic dinosaurs for him to use. He wasn't impressed with those and instead made his dinosaurs out of construction paper.
I thought they would do some short and sweet animations but my boys think bigger than I do. They spent hours one rainy Saturday afternoon filming a video that had over 150 frames.
After grabbing all of your frames, the book explains how to export the files and to use Windows Movie Maker to finish off the film. Audacity, a way to add sound effects, is included on the software and the chapter on sound teaches you how to add those in. There are also tips for editing and sharing your videos.
I did not even know I had a YouTube account until one of the boys showed me I did. We uploaded a couple of the movies they made with Stopmotion Explosion. They were so excited to see their movies on YouTube!
Captain America Movie
LEGO Pizza Making
The Stopmotion Explosion Animation Kit can be used with a variety of ages. It has been a great project for my boys to work on together. The book contains A LOT of information. They read through it and continue refer back to it when they are working on specific things. They have also viewed several of the tutorials on the Stopmotion Explosion website. The software was very easy to install on the computer and to use. Using the camera that comes with the kit makes it very easy to grab the photos to make the movie because you can set the camera wherever you need it to get a goos shot.
The boys have learned so much and after watching their videos have talked about what kind of things they need to do to improve their skills. The Stopmotion Explosion Animation Kit is a resource they will be using for a long time to come. I can't wait to see what they come up with next!
To see what my Crew Mates had to say, stop by the Crew Blog!