One of the ways we simplify homeschooling in our house is to do as many subjects together as we can. We start our day with a Bible lesson. It can be very challenging to find a study that I can use with a wide variety of ages. I was thankful to have an opportunity to review the following from Grapevine Studies:
Old Testament 1: Level 1 Creation to Jacob and Old Testament 1: Traceable
Old Testament 1: Level 2 Creation to Jacob
Old Testament 1: Level 3 Creation to Jacob
Old Testament 1: Level 4 Creation to Jacob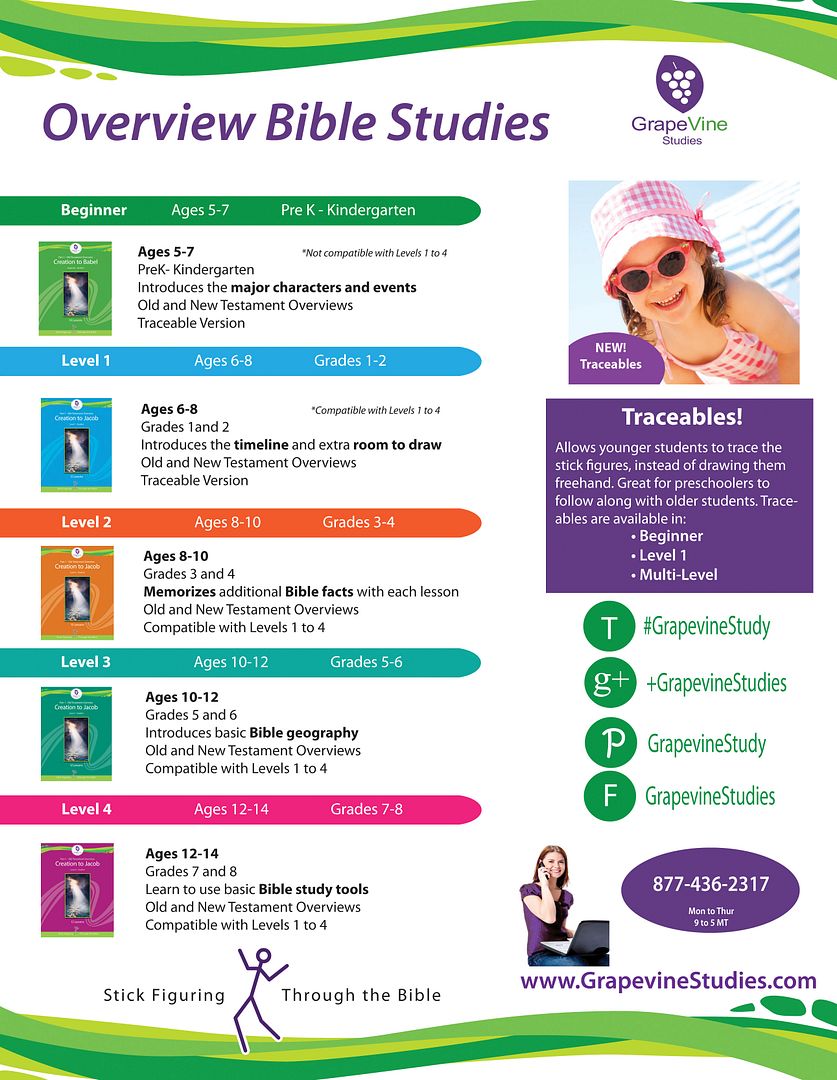 Grapevine Studies teaches God's Word by hearing the Bible, stick figuring through the Bible, answering questions, and memorizing Scripture. As the students get older lessons also include basic Bible geography and using Bible tools such as a concordance, topical Bible, and Bible dictionary. The studies can be used in a home, co-op, or church setting. A variety of ages can study the same topic with the more advances Bible verses, questions, and using Bible tools making the study more challenging for the older students.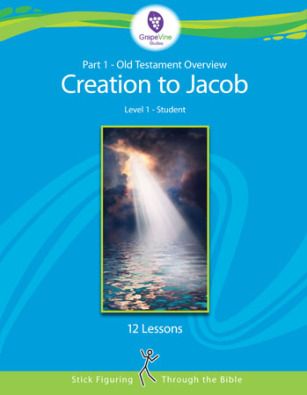 Old Testament 1 covers:
Creation
Adam and Eve
The Fall
Noah and the Fall
Tower of Babel
Job
Abraham
Isaac
Jacob
Each lesson starts with a timeline review page. Then there are lesson pages with 2 drawings per page for the traceable and Level One and 4 drawings per age for levels 2 and up. Next there is a student drawing page that allows students to draw their favorite part of the lesson and write their memory verse. Review questions are included. Level 4 also has a quest page with exercises using the concordance, dictionary, and topical Bible.
The Teacher's Guide gives instructions to the teacher. Level 1 and 2 are combined and levels 3 and 4 are combined. Lesson goals and key points are listed for each lesson along with the Bible verses to be read, drawing instructions, pictures of all of the stick drawing, and answers to the review questions.
In addition to the study and the Bible tools for level 4, your student will need crayons or colored pencils to draw and color with, and index cards to make character and event cards. Teachers will need a dry erase board and markers.
More Information About the Levels
How to Choose? Where to Start?
Samples
In my house, I have children who range in age from 4-13. We had been doing a study of the Old Testament and it wasn't working as well as I wanted it to, so that is why I chose The Old Testament 1 from Grapevine Studies. I have my 4-6 year olds using the Traceable, my 8 year old using Level 1, my 10 year old using Level 2, my 11 year old using Level 3, and my 13 year old using Level 4.
Level 3 Timeline Review
We received downloadable PDF's which have a family license. This means that you can make as many copies as you need for all the members of your family! That for me is a huge plus because I have multiple children using the different levels. Another huge plus is that we all can work on the study together. The pages are in black and white making them fairly cheap to print. I print one lesson a week for each of the children and we use it for our morning Bible time 4 days a week. The older boys use colored pencils and the younger children use crayons. I have a small dry erase board that I draw the figures on for them.
Level 4 Lesson Pages
I really like the stick figuring part. The drawings are easy enough for even me to do (which is saying a lot!) The children really like drawing them and it does help them remember what we talked about. The traceables are wonderful! The pictures are lightly drawn for them and all they have to do is trace. This makes it so much easier to include the little ones in our Bible time. They love tracing the pictures!
Traceable Lesson Page
Level 2 Lesson Page
The teacher's guide is easy to follow along with. It tells you what verses to read and shows good drawings for you to follow. There is constant review built into the lessons. A timeline review starts each lesson, Bible verses are reviewed, and comprehension questions are gone over.
Level 4 Quest Page
The only thing that has been a bit of a challenge is the quest pages in Level 4. The answers for these are not in the teacher's guide due to copyright restrictions. The page numbers that the answers can be found on in their suggested materials are listed. But we have a different concordance, topical Bible, and Bible dictionary and are not always able to find the answers we have needed.
Level One Student Drawing Page


We have been pleased with Grapevine Studies and are planing on continuing on with this study.
To see what my Crew Mates had to say stop by the Crew Blog!