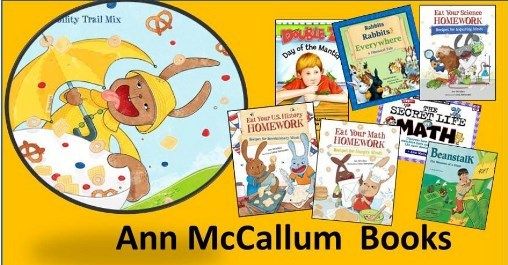 My children love science and they love to cook. We were excited to have an opportunity to use and review Eat Your Science Homework from Ann McCallum Books.
Ann McCallum is a teacher who has taught in many different locations, including a one room school house in British Columbia, Canada. Now living in Maryland with her husband and two children, she has written several fun and educational children's books. Her first book, The Secret Life of Math won ForeWord Magazine's Book of the Year Award. Since then she has written several more including: Eat Your U.S. History Homework, Eat Your Science Homework, Eat Your Math Homework, Rabbit, Rabbits Everywhere: A Fibonacci Tale, and Beanstalk: The Measure of a Giant.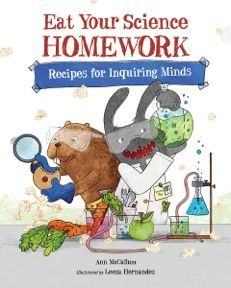 Eat Your Science Homework is a 47 page paperback book. It is also available as a hard cover book. The book starts with a description and cooking safety tips. Next you will find 6 different edible science projects. Each section starts with a one page science topic for the student to read. Then it has the recipe to follow including prep time, cooking time, and necessary equipment. The next page lists the step by step method. The next page contains further information on the topic and another experiment idea. Then there is a Science Review section going over the topics that were covered and a glossary defining different scientific terms that were found throughout the lessons.
Recipes in this book include:
Atomic Popcorn Balls
Density Dressing and Veggie Sticks
Invisible Ink Snack Pockets
Loop, Whorl, and Arch Cookies
Sedimentary Pizza Lasagna
Black Hole Swallow-Ups
You can purchase Eat Your Science Homework for $7.95 for the paperback or $16.95 for the hard cover and take a peek inside the book here.
We don't do school on Fridays. Fridays are days for us to participate in some fun outside activities and run errands. On Friday mornings, we try to do some fun, educational activities. Eat Your Science Homework has fit into that slot perfectly. The first recipe we made was Loop, Whorl, and Arch cookies. I read the lesson page, recipe, and method aloud to the children and then we got to work. They had a great time making these cookies and learned a bit of science along the way!
We also made the Sedimentary Pizza Lasagna.
Invisible Ink Snack Pockets are next up on my list.
This is a fun little book and a great way to teach science concepts. It is written in a very interesting, conversational way and I think hands on activities always make lessons more memorable. The illustrations are adorable. The instructions are written clearly in easy to follow steps. How much your child is going to be able to do on their own will depend on their age. I was working with children who were 10 and under so I had to be there to walk them through, but I think probably 12 and up could do these activities independently.
We did have an issue with the dough for the cookies we made. It was really dry. I don't know if something was off with the recipe or if any of my helpers slipped in some extra flour, but I did have to add some things to get it to turn into a workable dough.
I would love an opportunity to use the other books in this series.
To see what my Crew Mates had to say, stop by the Crew Blog!