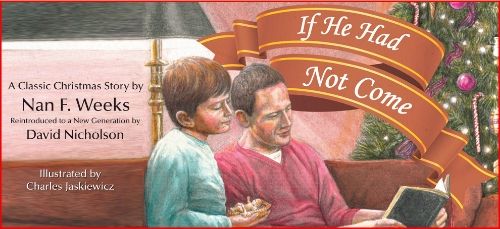 There are many movies and books especially around the holidays, in which we get to see what life would've been like on earth if one particular character had not been born, or what life would be like if they made certain changes in their lives. But, have you ever talked with your children or thought about what life might be like if Jesus had never been born? Our latest review from David Nicholson, If He Had Not Come, shows what life may have been like if Jesus had never been born.
If He Had Not Come is a hardcover, 40 page, illustrated book for ages 6 and up, although younger children may enjoy the story as well. The story was originally written by Nan F. Weeks and included as part of an anthology, Christ in the Fine Arts that was published in 1938. David Nicholson, a retired teacher and short term missionary, discovered the story when his children were young and after many years of reading it to his own children, decided to reintroduce the story to a new generation.
The story is about a young man named Bobby who is very excited on Christmas Eve. Before going to bed he and his dad sat down for their daily Bible reading. Some of the words from the Bible reading "If I Had Not Come "(John 15:22) stayed in Bobby's mind as he fell asleep. Shortly after he hears a voice calling to him and he can't wait to see his gifts under the tree, but the world he woke up to was very different from the one he fell asleep in.
At the end of the book you will find 6 discussion questions related to the story. On the following page you will find 4 Going Deeper questions that go more in depth to the idea of what life would be like if Jesus had not come to earth and why Jesus came to earth. There is also a page explaining the Gospel Message, and an idea to help you celebrate Christmas.
You can purchase If He Had Not Come for $18.99 for a physical copy, or for $3.99 as an ebook.
I read If He Had Not Come to my 3,5,7,9, and 10 year olds. We read it as a bedtime story. My first impression of the book was that I loved the illustrations. They are beautiful! I also like the large size of the pages and that it is a hardcover book as they are much sturdier and tend to last longer. We had never read a book exploring what life might be like if Jesus had never been born. The children enjoyed the story and it led to some very interesting discussions. After finishing the book we continued to talk about what kinds of things would be different if Jesus had not been born and I was surprised by some of their answers even down to the idea that our youngest son would not be named Christian!
One of the things that stood out to me in the story is that Bobby is shocked in the story that the factories and stores are all open on Christmas Day. That would have been shocking when this story was first published, and even when I was a little girl, but sadly in today's world that is not such an uncommon thing.
We loved the story and If He Had Not Come will become one of our favorite Christmas read alouds.
To see what my Crew Mates had to say, click on the banner below.