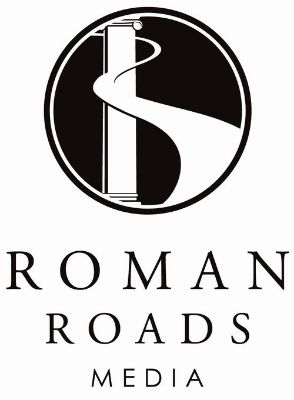 Roman Roads Media publishes Classical video curriculum for homeschoolers from a Christian perspective helping, to instill a lifelong love of learning in your children. When they appeared on our vendor list, I took some time to investigate the products they were offering. Several of the items on the list were products we have already used and LOVED. But, there was one product we did not have that stood out to me. I was very excited to have an opportunity to review Old Western Culture: The Greeks.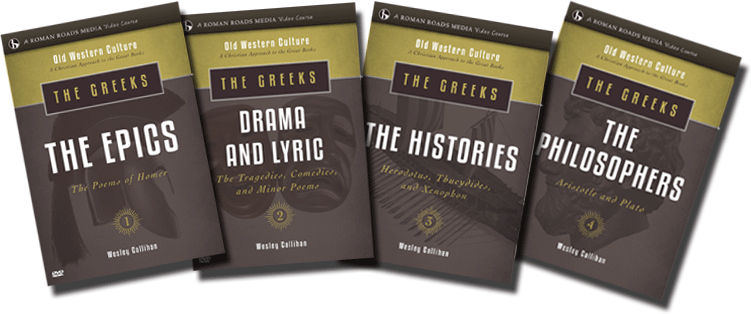 Old Western Culture: The Greeks is a "Christian approach to the Great Books." It is for grades 8 and up and is divided into 4 units:
Greeks: The Epics
Greeks: Drama and Lyric
Greeks: The Histories
Greeks: The Philosophers
Each unit takes 9 weeks to complete which will allow students to complete the entire course in 36 weeks. The course is made up of video instruction, reading assignments in the great books, workbook exercises, and an ending exam and term paper for each unit. Throughout the course, students will explore history, theology, philosophy, poetry, and art from the greatest works of literature in the Western world. By the completion of all 4 units, your students will have earned a full credit in both literature and history.
There are 12 video lessons in each unit taught by Wes Callihan. Each of the video lectures are approximately 30 minutes long. Each of the lessons starts with a brief review before diving into the material being presented in the new lecture. After viewing the video lesson, there are lecture questions for the student to answer. These are available in printed format or as PDF downloads depending on what you choose to purchase. Assigned readings are given at the end of each lecture and are also shown on the suggested schedule and in the workbook assignments. Links to digital versions of assigned readings are included with your purchase. Term papers are assigned for each unit and due at the end of the unit.
The first unit, The Epics covers the two great poems of Homer, The Iliad and the Odyssey. Students will have an opportunity to view over a hundred exhibits throughout the course of the video containing historic artifacts and classical art work. They will learn about the back drop of the plays and also be guided through plot, poetic devices, philosophy, and history of the plays as well as read them themselves.
Drama and Lyrics covers a selection of Greek plays and poetry including works from Sophocles, Aeschylus, Euripides, Aristophanes, and more. In this section students will learn about the earliest comedies and tragedies of the Western world as well as the early theater and performances. Also, Greek lyric poetry of this era will be introduced as well.
The Histories covers three of histories most influential historians. Students will read and learn about Herodotus, "The Father of History", and read his book The Histories. Students will also study and read Thucydides' History of the Peloponnesian War and Xenophon's Anabasis.
The Philosophers covers readings from Plato and Aristotle. In this unit Callihan discusses how the church and society have been influenced by these early philosophers. Texts covered in this unit include: Plato's Apology, Crito, Phaedo, Phaedrus, and Republic and Aristotle's Metaphysics, Ethics, and Poetics.
You can purchase the complete set of The Greeks (all 4 units) in two different formats: DVD ($224) or Digital Streaming ($199.) Both formats include the videos, Guide to the Art, Student Workbooks Answer Keys and Exams in PDF format. You can choose to purchase printed student workbooks for each unit for $12 each. If you wish to purchase one of the DVD sets, you can buy them for $56 each.
Sample Lessons
Old Western Culture: The Greeks is Year One of what will be a 4 year course. The Romans will be finished by December of 2014, followed by the Christendom in 2015, and Early Moderns in 2016.
I love history and literature and am happy to say that my children have followed in my footsteps in that area. My oldest daughter especially. Chelsea just graduated from our homeschool in May, but since I knew this would be something that she would enjoy, I asked her to help me out with this review. She has been working through the first unit The Epics following along with the suggested schedule taking some time off when she was out of town. In the meantime, I have been working through getting an overview of the entire course by sampling the first few lectures of each unit and completing the assigned readings and questions for each of the lectures that I have viewed.
One of the things that I worried about when I first started homeschooling was the more difficult subjects or those which I didn't feel that I was qualified to teach. What I have learned along the way is that you do not have to have knowledge in all of the subjects that you want to teach or your students want to learn, instead you can bring in "experts" in those fields to teach those subjects for you. That is what Roman Roads Media is doing with their video courses for homeschoolers. Bringing the professor into your home to teach your children (and the parent too in some cases.) Old Western Culture: The Greeks is a course that is very easy on the parent. The course can be completed independently by your high school students. The PDF files are not only included on the DVD, they are also available on the website making it easy to download to an iPad or other tablet. They also include links on the website to digital files of the source texts used and even links for you to purchase the physical books if you wish. I thought the materials page was fantastic and made using this course that much easier. Plus they include a suggested schedule for completing the course in 9 weeks.
The lectures themselves are wonderful. Mr. Callihan has a wonderful story telling way about him and his lectures are educational, interesting, and humorous. Throughout the lectures we have an opportunity to see beautiful works of art, timelines, maps, and even many of the places he is speaking about. I love too how he talks about the different meanings of words and what they meant then and how they relate to us and what they mean now.
One of my favorite parts to the course is the included Guide to the Art booklets for each unit. On these you will find the video lesson number that work of art is discussed in, the art work in color, and a great description to the work of art. I mentioned above that this course earns a student a full credit in literature and history, and with all of the art shown and studied, I would even award a 1/2 credit to my students in art history.
My favorite part of the course is that it is all based on a Christian perspective. It does of course discuss many topics that are not Christian is nature (gods and goddesses for example) but it is all taught through the Christian worldview lens. Mr. Callihan talks about why we as Christians should study and read things like philosophies that were written by pagans and he makes points that are absolutely true and will help young students put it all into perspective.
The course is recommended for ages 14 and up. It does discuss some mature topics and shows classic artwork some containing nudity. Parents will want to decide based on the maturity level of their children if this course will be appropriate or not. Also, there is a significant amount of challenging reading which may be a factor for deciding whether or not this course would be right for your child, especially if they are in the younger half of the age range.
Members of The Crew had an opportunity to review several different products from Roman Roads Media. To see what my Crew Mates had to say, click on the banner below.