Have you ever wanted your children to learn to play the piano but do not think you can afford private lessons? Or maybe it just isn't feasible for you to travel back and forth to weekly lessons with a private instructor. Over the last several weeks we have had an opportunity to do piano lessons right from the comfort of our own home using HomeSchoolPiano. For our review, we received HomeSchoolPiano-Complete Set of Books.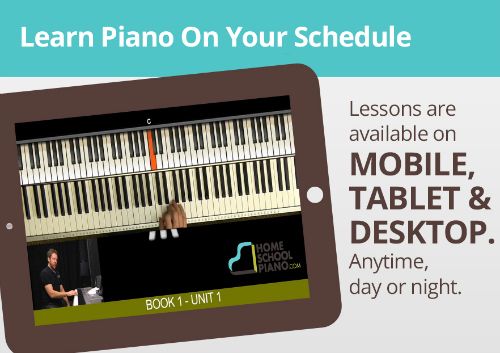 HomeSchoolPiano is online piano instruction for all ages and abilities. Lessons are taught using videos and downloadable lesson books. Videos can be viewed on your computer or tablet. Students can work at their own pace and even watch the videos multiple times as needed. You do not need any special equipment to use HomeSchoolPiano. Any computer or tablet that can access the internet will work. HomeSchoolPiano recommends using a piano or keyboard that has full size keys, has a stand and a bench to make playing comfortable, and has at least 49 keys.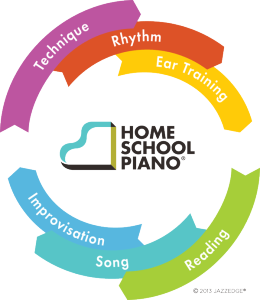 To help students master piano and obtain success faster, HomeSchoolPiano uses a 6 step cycle within each unit:
1. Technique
2.Rhythm
3.Ear Training
4.Reading Music
5.Song
6.Improvisation
There are 4 levels that you will have access to:
Core Piano-Core piano is for the absolute beginner. There are 33 videos in this section starting with an intro and notes of the piano and working your way up to key signatures and basic rhythm. Along the way you will learn many different things about technique, chords, scales, reading music, playing hands together, and much more. There is also a PDF book to download and print out.
Book One- Book one is for the beginner or those who haven't played for awhile. There are 6 units in this book with 7 lessons in each unit (one of each of the 6 step cycle and one bonus lesson.) There are lesson quizzes to take after the lessons and a new song is learned in each unit. There is also a PDF book to download and print out.
Book Two- This is for beginner to intermediate students or those who have finished book one. In this book the songs, concepts, and improvisation techniques start to become more complex. Like book one there are 6 units with 7 lessons and lesson quizzes to take. There is also a PDF book to download and print out.
Book Three-This book is for intermediate or those you have finished book two. By the end of this level students will be getting into more advanced concepts like syncopation, voice leading, and more advanced scales for improvisation. This level also has 6 units with 7 videos in each lesson, lesson quizzes, and a PDF download lesson book to print out.
Video lesson length varies and then students need time to practice what they have learned. It is recommended that students spend at least 30 minutes a day 5 times a week practicing what they have learned. How many lessons they complete and how quickly they complete them will depend on the student.
You can sign up for a free lesson to get a feel for the program and how it works.
HomeSchoolPiano offers two different payment packages:
1. Success Package-$299 UNLIMITED LIFETIME ACCESS to HomeSchoolPiano including all of the bonuses (downloads, jam tracks, sheet music) for up to 5 students.
2. Payment Plan -$99.97 a month for 3 months UNLIMITED LIFETIME ACCESS to HomeSchoolPiano including all of the bonuses (downloads, jam tracks, sheet music) for up to 5 students.
I have been using the Core Piano level with my 5 year old daughter and we have also completed a few lessons in Book One. We have used both the iPad and a laptop to view the videos. We do not have a piano or a regular keyboard, we have a Midi Keyboard that has to be connected to a computer in order to be used. You do NOT need to have this type of keyboard to use HomeSchoolPiano, but this is what we already had at home. We have a slow internet connection so I let the videos load all the way and then played them so we would not have to keep stopping and starting. We watched several videos each week and practiced the concepts after viewing the videos.
One of the first things that I really liked about HomeSchoolPiano was that the subscription is a lifetime subscription AND you do not have to chose one level, you get access to all of the levels. This is especially wonderful for those who have multiple children using the subscription. Also, being able to view the lessons on a mobile device such as tablet is a great feature. The lessons are short and to the point. You can see everything the instructor is doing on the screen including every note played and labeled. When you start at the core piano level, you are really taught everything right from the beginning, no prior knowledge is needed. It is just as if you are bringing an instructor right into your home. So even if you are a parent who has no musical knowledge at all, your child can learn piano, and if you watch them with your child, you will too. The teaching methods make sense. For instance, instead of having the children memorize names or phrases to remember the lines and spaces, Willie teaches them to go in alphabetical order to remember which was which. This made so much more sense to me! Also, the techniques are different (and a lot more fun) than any piano lessons I have seen before. Even teaching the different note and rest lengths by vocalizing them is a concept that I had never been taught before but I think is a great way to teach children. Doing scales and learning notes does not have to be boring! Children are encouraged right from the beginning to put their own heart and soul in the music and do a lot of improvisation which I think is fantastic!
I love the quizzes that go along with some of the lessons. I also like the records that you can view for each child. I sat with Lily and watched the videos with her, but if you have a child that is working independently, you can see at a glance what they have completed. Also, you have the ability to download the lessons starting in Book One in both video and mP3 format, except for the Ear Training lessons which do not have a download option. So you can watch the videos without an internet connection and also just listen to them if you wish. You do not necessarily have to have your computer in the same room as your piano to use HomeSchoolPiano, but if there is a way for you to view the lessons while at the piano/keyboard it would be very helpful.
Lily did have a bit of a hard time using HomeSchoolPiano. She is only 5 and used to using a piano lesson that has a lot of games and interactive features so the videos, especially the first few in Core Piano, had a hard time holding her attention. As she was able to try a bit more she did get a little more interested. I am so thankful that we have a lifetime subscription because I know as she gets a little older she will be able to come back to these and learn some new skills. I also hope to get my boys playing, and even brush up on some skills myself!
To see what my Crew Mates had to say, click on the banner below.