Many people know of Apologia Educational Ministries because of their award winning science and worldview curriculum. But, they also have a wealth of materials to support and encourage homeschooling parents. I recently had an opportunity to read and review Flourish: Balance for Homeschool Moms by Mary Jo Tate.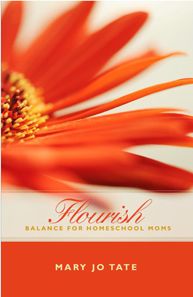 Flourish is a 288 page paperback book written for homeschooling mamas. It was not written just for stay at home homeschoolmoms, but also working homeschool moms, work at home homeschool moms, and single homeschool moms as well. In it you will find practical principles to make your home life more successful and balanced and help you find ways to make the most of your time and enjoy your homeschooling journey. Flourish contains 16 chapters:
An Invitation to Flourish
Change Your Mind to Change Your Time
The FREEDOM Toolbox
Where Did My Time Go?
Aim High: Setting Goals
What Do I Do Next?: Seven Essential Planning Tools
We Interrupt This Program
It's Time For An Attitude Adjustment
Oxygen Masks and Monkey Bread Days
Training Your Children
Making Memories
Managing Your Home
All of Life Learning
Solo Act: Flourishing as a Single Mom
Home Business
Moving Ahead
Each chapter is full of personal stories, quotes, and real life examples related to the topic being discussed. At the end of each chapter you will find several activities to help you take action and apply what you have learned in that chapter to your life. At the end of the book there is a list of Recommended Resources and a set of planning forms. After purchasing Flourish, you will have access to customizable versions of the forms that you can download to your computer and print out.
You can purchase Flourish: Balance for Homeschool Moms for $15.
Flourish Sample
One of the first things that I wondered when I found out we would have an opportunity to review this book was, " Will it teach me anything new?" You see, as a mom that has been homeschooling for 10 years, I find that many homeschool encouragement books are written towards the brand new homeschool mom and do not have anything in them that I have not read many times before. Flourish arrived and I dived right in completing one chapter per day. As soon as I started reading, I discovered that Flourish has something in it for everyone. Whether you are a brand new homeschool mom, a veteran homeschool mom, a homeschool work at home mom, or a single homeschool mom there is something in this book for you. Every one of us can use advice about how to make our lives more balanced and who does not want their lives and homeschool to Flourish? Mary Jo gives a lot of great advice and practical examples on how to make that happen. Some of them you may know or do already, but some you may not. You may want to read with your highlighter or something to underline in hand, because I wish'd I would have. I may have to go back and read it again!
A couple of things that really stood out to this homeschool mom was when Mary Jo was talking about time and time management. We only have so many hours in the day, and by saying yes to one thing, you are saying no to something else and we need to make sure that are yes to one thing isn't making us say no to something that may be more important. I really like her "Freedom Toolbox" with Freedom being an acronym for: Focus, Reflect, Educate, Eliminate, Discipline, Organize, and Multitask. I used to think I had a great memory (and maybe a few children ago I did!) and never felt the need to write anything down. I am still not great at making lists but I am working on it. By writing things down it is one less thing I have to worry about spinning my brain into overload! Another thing that especially stood out to me was the idea of managing your home along with the eliminate part of the Freedom Toolbox. Too much clutter makes me overwhelmed especially when it seems like we do not have a place for everything. I have started removing some of the clutter systematically so it is one less thing I have to manage. I started with the boys closet. We had way too many clothes up there, and it was wonderfully freeing to see them all go out the door!
There may be some sections of Flourish that you do not think will apply to you such as the section on single moms or home business, but they are worth reading through anyway. You may know single homeschooling moms or find something in the home business section that you can apply to your life or you may start a business someday. Flourish is a book that you can take what you need out of it and perhaps down the road you may read it again and be ready to add in more of a certain area. You can tweak the planning goals to fit whatever your situation may be at that time as like everything else about homeschooling we are all unique and each person's Life In Balance will look a little different.
To see what my Crew Mates had to say, click on the banner below!