Library and Educational Services is a wholesale supplier of Christian, wholesome, educational DVDs, books, games, and more. Their wholesale customers include schools, churches, libraries, resellers, and educators. Homeschoolers are considered educators and able to set up a free account to purchase through LES to receive a 30-70% discount on anything they buy. In 2012 we had an opportunity to review Go Science DVDs and recently we were excited to be able to review Series 2 of Go Science DVDS.
Go Science is a DVD series that features Ben Roy who teaches Science Methods at the University of Tennessee at Chattanooga and is the former director of a science television show. There are 7 DVDs in Series 2:
Volume 1: Sound, Gravity, Space
Volume 2: Life Science, Weather
Volume 3: Air
Volume 4: Motion, Friction, Electricity, and Light
Volume 5: States of Matter, Water
Volume 6: Chemistry
Volume 7: Engineering, Design, Flight
There are over 80 demonstrations on the 7 DVDS that will amaze children ages 4-12 and get them excited about science. But, most importantly each one of the demonstrations has a spiritual application and points children to our Creator, God.
Each DVD has a list price of $14.95 but they are available at Library and Educational Service for $8.97. The set of 7 DVDs has a list price of $99.70 but can be purchased from LES for $59.82.
We received 2 Volumes for our review: Volume 2 Life Science and Weather, and Volume 6 Chemistry.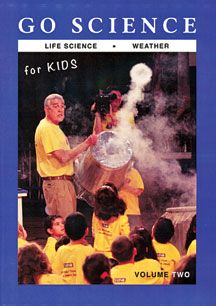 There are 12 Demonstrations on the Volume 2 DVD:
Life Science:
Flashlight Animal Eyes
Animal Skulls
Bobby Pins
What Are You Looking At?
How Much Do Your Lungs Hold?
Eating Nails For Breakfast
Naked Eggs
Weather:
Fire Tornado
Ping Pong Cannon
Liquid Nitrogen Cloud
Cloud in a Bottle
Garbage Can Vortex
Total running time for the DVD is about an hour. Each segment lasts about 3-6 minutes.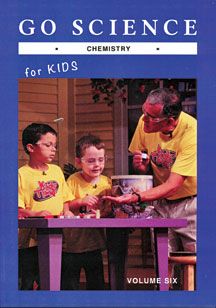 There are 11 Demonstrations on the Volume 6 DVD:
Chemistry 1:
Milk and Food Coloring
Elephant's Toothpaste
Stains
Staying Dry Diapers
Lava Lamp
Chemistry 2:
Instant Snow
Silly Slime
Hydrogen Bubbles
Grain Elevator
HHO Generator
Mentos Fountain
Total running time is 59 minutes with each demonstration ranging between 3 and 10 minutes in length.
I watched Go Science Series 2 DVDs with my 3,5,7,8, and 10 year olds. We had several rainy afternoons in a row and used that time to watch the Go Science DVDs. We took 2 days to watch each DVD but you can easily watch more or less because there is a definite break between each segment on the DVD.
I said this in my last review of Go Science and it still holds true for Series 2 so it is worth repeating. Ben Roy's passion and enthusiasm definitely comes across the screen and is contagious. He makes science fun and interesting for children. I love that the segments are short so you can choose how much or little you want to watch each time. The DVDs teach fun and interesting science concepts to children. I don't know that my children will ever look at their breakfast cereal the same way again! My favorite part is that the DVDs teach science in the context of knowing, being amazed, and giving glory to our Creator, God.
Some of the demonstrations you are going to be able to recreate at home with adult supervision. We actually had done a few of the ones on the chemistry DVD but they were ones that we loved and the children didn't mind seeing them again. Others are going to be demonstrations you are not going to be able to do at home. Those I think are my favorite because it gives the children a chance to see those live even though we can't do them. Their favorite one to watch was the Liquid Nitrogen Cloud. We had to back up the disc and watch that episode a few times. It was really cool!
To see what my Crew Mates had to say, click on the banner below.