One of the reasons I wanted to get an iPad for our homeschool is because there are so many educational apps available. Recently we have had an opportunity to use and review
Phonics and Reading With McGuffey
from
LiteracySoft.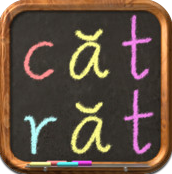 The Phonics and Reading With McGuffey app was built from the source material of McGuffey's Electric Primer Revised Edition which has taught millions of students how to read. The app begins with beginning letter sounds and progresses through the 1st grade reading level.
The app includes:
53 lessons
44 letter sounds of English and their graphemes
60 + letter sound animations
400 + practice word vocabulary
9000+ nonsense word audio dictionary\
The app has been carefully designed to:
work for any literacy level (adults, pre-K or in between ages at a beginning level)
allow students to go at their own pace
guide students step by step through reading and spelling practice
appeal to a wide variety of learning styles
allow students to work unsupervised
be easy to use
utilize the power of synthetic phonics- the dyslexia busting technique
Phonics and Reading with McGuffey is an app that will work on iPad, iPod touch, or iPhone for up to 10 users. You can download the lite version which contains the first 10 lessons for free. Click
here
for more information The full version with all 53 lessons can be purchased for $19.99 Click
here
for more information.
Phonics and Reading With McGuffey is also available for PC and Mac. Click
here
for more information.
To start out using the app, you create your users. You can add up to 10 users in the app.
You also can adjust the settings for each user.
And pick which lesson you would like to begin on. If you are not sure you can preview the lesson.
Lessons 1-38 have 13-15 parts for each lesson.
First new letter sounds are introduced.
Then new words are introduced.
Next is the phonics flash cards. The student has to select the letter of the sound they hear.
The next step is the Phonics Blender that lets the student experiment with the different sounds the letters make.
After that is a picture that corresponds with the lesson.
The next few parts are reading practice.
Next is a sound quiz.
The next part is spelling practice.
And the last part is a sight word drill.
Lesson 39-52 follow a similar format, but all the letter sounds have been mastered and only new words will be announced at the beginning so these lessons have fewer parts. A review of all letter sounds is given again in lesson 53. Every 5th lesson is a review lesson that covers material in the four previous lessons.
I have been using the Phonics and Reading With McGuffey app with my 6 year old son. He has been using the app 4 days per week for 15-20 minutes per day. We started on lesson at the very beginning of lesson 1. He already knows all of his letters and their sounds and a few sight words. My 4 year old saw her big brother using the app and thought she wanted to try it but she is not quite ready yet. My 7 year old likes to use the app, but it is pretty easy for him as he is already reading past a 1st grade level.
The app was very easy to download and begin using. I am glad that it allows different users so you can use it with more than one child and keep each child's place saved. Christian can open and use the app completely independently. I like that it is predictable and teaches each lesson exactly the same way. The voice on the app is clear and easy to understand. The child gets positive reinforcement for getting the answer correct and an opportunity to try again if they get it incorrect. The animated graphics are really cute. Christian really likes the rat that dances and when the app was doing the short i sound, saying i, i, Italy and then exclaimed "Mama Mia!" He thought that was so funny! I like that it teaches both phonics and sight words. Using the Phonics and Reading With McGuffey app is convenient and portable. You do not have to finish a lesson in one sitting. If your child is distracted, or you need to stop in the middle of a lesson, the app will save your place at that step.
You do not have to complete each step or show mastery to move on to the next lesson. On the quiz step, if you miss too many, it tells you you how important it is to understand the lesson before moving on and to press the blue circle to repeat the lesson. But, the app will allow you to move on to the next step. Parents may want to pay attention if allowing your child to do on their own, or have an older sibling keep an eye on them to make sure they are truly mastering the lesson before moving on. Their is a Progress Report , but it only shows where each child is, not how they are doing.
One other thing that I wanted to mention is the free download of
McGuffey's Primer in Color
. You can download it to your computer or you iPad, iPod, or iPhone, or print it out if you wish. It is an updated version of the McGuffey's Eclectic Primer Revised Edition with the same graphics from the app. You can have your child read it after each lesson, or after completing all the lessons to show they are ready for moving on to second grade. The book is beautiful, and a great way for students to read to you and show you what they have learned.
To see what other Crew Mates had to say, click on the banner below.