I cannot believe that my daughter is going to be a senior next year! Since she is the oldest and we have never gone through the process of preparing a child for college before, we need all the help we can get. I was excited to have an opportunity to review the book,
High School Prep Genius
from
College Prep Genius
.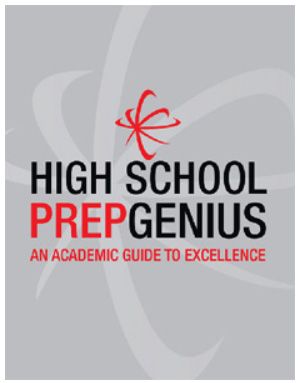 Written for parents and high school students, or students approaching high school age (7th grade and up), High School Prep Genius will answer all the questions parents should and do ask about high school. In this 437 page paperback book, you will learn how to turn your child's high school experience into a recipe for success. The book is designed to help all students chart a course of success and it can be used by students who are in all types of educational settings (public, private, homeschool) by simply ignoring or adjusting anything that doesn't apply to your situation. It was written with college bound students in mind, but even if your child does not plan on going to college there is still helpful information contained in the book.
High School Prep Genius is divided into 4 main sections with several chapters in each section.
I.Introduction
how to use this book
college and career notebook
student timeline: before high school begins
9-12th grade timelines
II. Foundation For Personal Success
Chapter One: Personal Development
Chapter Two: Interests That Make You Interesting
Chapter Three: Own Your Beliefs
Chapter Four: Building A Healthy You
Chapter Five: Your Financial Independence
Chapter Six: Building A Strong Support System
III. Foundation For Academic Success
Chapter Seven: Academic Development
Chapter Eight: Effective Studying
Chapter Nine: Tests and Papers
Chapter Ten: Getting Organized
Chapter Eleven: High School Mechanics
Chapter Twelve: Going Beyond the Basics
IV. Foundation For Future Success
Chapter Thirteen: Future Development
Chapter Fourteen: Choosing a School
Chapter Fifteen: Standardized Test Prep
Chapter Sixteen: College Applications
Chapter Seventeen: Paying For School
Chapter Eighteen: College Essentials
Appendix A:
How to Build a High School Transcript
Appendix B:
Talent Searches
Appendix C:
Great Books to Get You Started
Appendix D:
Reduce Test Anxiety Through Relaxation Techniques
Appendix E:
Admissions Terminology
Each chapter is written with the student in mind and has exercises and questions for them to complete. At the end of every chapter there is a parent section and a parents homework section. It is recommended that for optimal reading parents and students should read each chapter together, or that students read the book first and then pass it on to their parents to read.
You can purchase High School Prep Genius for $29.95. Click
here
to order.
Special Offer: Get $5 off by using coupon code TOSCREW.
I had intended to read through the entire book before handing it over to Chelsea to read. But, the day it arrived after I had only had a chance to flip through it briefly, Chelsea discovered it and disappeared with the book! She is a person who loves to read, and is facing the reality that she will be graduating next year and knows she needs to be as prepared for college as she can be, but really hasn't been very motivated to start getting ready. Reading High School Prep Genius really lit a fire under her! She has read through the whole book. She made a college/career notebook, bought a planner, began researching and applying for scholarships, and has been more serious about looking at colleges. She has decided on a major she would like to pursue in college. She has been doubling checking my work that I have done on her transcripts. High School Prep Genius has had a big effect on her!
After I stole the book back, I had an opportunity to read through all of the student and parent sections. I found High School Prep Genius to be very helpful and thorough. It is written to all high school students so there were a few things that really didn't apply to us as homeschoolers, but as I mentioned above, you can just ignore those things. There is a section on owning your beliefs, but the book does not assume any one belief system. I really like that the book addresses the student and emphasizes the fact that students are responsible for their education, life choices, and future and that they need to take responsibility for it. I like that it emphasizes that education is for learning not just memorizing facts and getting good grades on a test. I think the book contains a lot of helpful tips for getting and keeping students organized. It also has a lot of great information about the college entrance process and getting college paid for.
There is a section that may be especially useful for homeschool parents on how to build a transcript. I loved this statement, " Don't allow people/companies to give you fear by trying to sabotage your homeschooling with statements like, " students need their classes accredited" in order for them to be legitimate."
I wish the book had been written more like a "work book" in a larger size and spiral bound. This would make it easy to copy off some of the included checklists an charts that are in the book and also make it easier for students to write their answers to the questions in.
*Update: After the Crew reviews posted and the vendor read our feedback, they have created a PDF file download of all of the Career/College Notebook pages. Everyone who purchases the book will have access to this download.
To see what other Crew Mates had to say, click on the banner below.