I have used many, many products from
Apologia Educational Ministries
over the 12 years that I have been homeschooling. They are very well known for their science and Bible curriculum, but also have a variety of other products including language arts, government, homeschooling helps, and electives. Our latest review from Apologia is
Internship for High School Credit
.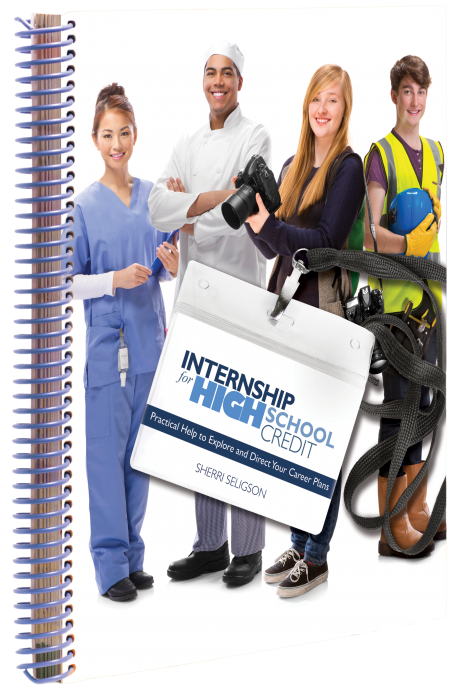 Internships can be a great way for high school students to explore a career path to gain more knowledge in a particular field, learn from hands on experience, and make a decision about whether or not it might be a career they would like to pursue. Working as an intern can also give students an advantage when applying for college or future employment. Students can also earn high school credits while they are working on a internship.
Apologia's Internship for High School Credit ($33), is a workbook that will help guide parents and students through the Internship Process. The book is a spiral bound page book with sections for the both the parent and student to read as well as workbook pages for the student to fill out as they are working through the internship. The book has tips and suggestions for searching for a place to do an internship in different fields and practical suggestions for what to wear and how to act at an interview. There are many suggestions for writing a resume and a sample for you to follow. For parents you will find suggestions for meeting and interviewing the people who will be working with your child and suggestions for recording their internship on their high school transcripts. There are also many encouraging and helpful quotes throughout the book and tips for being successful.
Once you have an internship, the workbook pages will help you record your work. There is a worksheet to list your specific goals, worksheets to log your hours and dates worked and questions and activities for each week of the semester such as: What are the reasons you chose this field for an internship? How are you enjoying your work experience? Make a list of terminology used in the workplace. There is a midterm work performance worksheet for your employer to fill out and an end of semester work performance sheet. There is a skills gained worksheet for you to record new experiences and opportunities.The assignments for the second semester are a bit more in depth and involve several different writing assignments that need to be completed on separate pieces of paper or typed on a computer.The course wrap up includes a sample thank you note to write to your employer, tips for asking for a letter of recommendation and for updating your resume.
I currently have one student in high school and another that will be next year and may be considering having my sons look for internship opportunities in the future. I found the Internship for High School Credit book full of helpful information both for the parent and the student. I especially appreciated the sample resume because it gave good information about how to write a resume for a student that does not have much of a work history. The included worksheets are a wonderful resource for a student to use as they go through their internship and also will help document what they have done and how many hours they spent for the purpose of recording that information in the student's transcript. Internship for High School Credit is a wonderful, affordable resource for homeschooling families with high school students.
Members of the Crew also reviewed
How to HOMESCHOOL with Stunning Confidence, Contagious Joy, and Amazing Focus (DVD & Coursebook)
To see what my Crew Mates had to say, stop by the
Crew Blog!