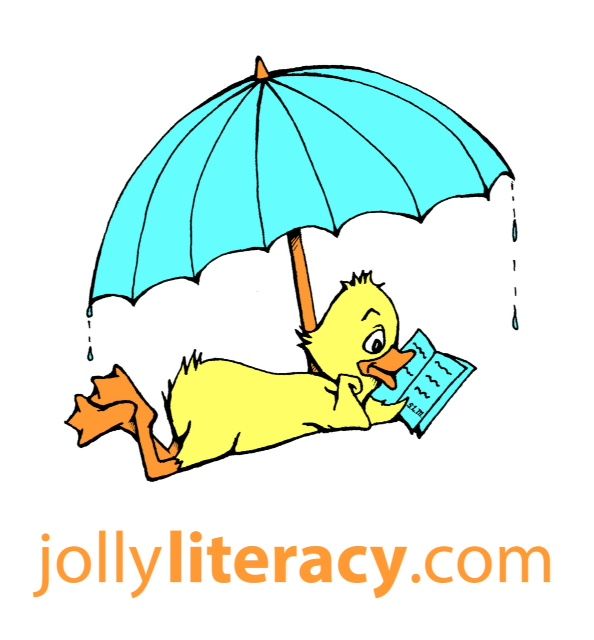 Over the last several weeks, the girls and I have been reviewing Jolly Phonics and Jolly Grammar, from jollyliteracy.com and just2ducks LLC. We received:
Jolly Phonics Teacher's Book in print letters
Jolly Phonics Student Books 1,2, and 3
Jolly Grammar 1 Teacher's Book in print letters
Jolly Grammar 1 Student Book
Jolly Songs in print letters
Jolly Phonics is a multisensory program to teach children letter sounds, letter formation, blending, segmenting, and tricky words. Children are taught 42 main letter sounds and a corresponding action for each sound. The sounds are not taught in alphabetic order, but split into 7 different groups to allow children to start forming words and reading faster. The groups are:
1, s,a,t,i,p,n
2.c/k,e,h,r,m,d
3. g,o,u,l,f,b
4. ai,j,oa,ie,ee,or
5. z,w,ng,v, oo, oo
6. y,x,ch,sh, th, th
7. qu,ou,oi,er, ar
The Jolly Phonics Teacher's Book in print letters is a paperback 184 page book. The first part of the book (the yellow section) is an introduction to Jolly Phonics and the Jolly Phonics teaching method. The second part of the book gives structured lesson plans for each day's lesson. The pages are color coordinated to match the corresponding student book. The lessons in each book follow the same basic format.
The student books are also paperback and around 50 pages each. The books are in full color. In Book 1, each letter sound is introduced with a story and a motion. Students practice letter formation by writing that day's letter and reviewing previous letters. Students practice blending the sounds. There is also a sound discrimination activity that students cross out the word that does not have the sound. Words are dictated to the student and they hold up a finger for each sound that they hear. A list of further ideas for practicing the sound is also given. In Book 2 alternate spellings for different sounds are taught, students write words that are dictated and continue to practice handwriting. They learn tricky words, start writing sentences, and do a variety of activities to reinforce what they are learning. In Book 3 students continue to work on alternate spellings and tricky words. They start to write sentences from dictation, have comprehension activities to complete, and continue writing more words and sentences. Students complete one page per day and will complete all three books in one school year.
Jolly Songs in print letters is a book and CD. The book is a paperback and in full color and is 24 pages long. It has a picture, words, and motions to all the songs on the CD. There are 42 short tracks on the CD to go along with the sound lessons in the first Jolly Phonics book.
The Jolly Grammar 1 Teacher's Book is 104 page paperback book. It is similar in set up to the phonics book, except that there are separate Teacher's Books for each grammar level. Jolly Grammar Book 1 starts with an introduction and then teaching ideas for grammar and spelling. The next section is the teaching instruction for each day's lessons. There is a total of 36 weeks worth of lessons.
The Jolly Grammar 1 Student Book is a full color, paperback, 79 page book. There are 2 pages for each lesson. The first page has a spelling focus and contains the word bank, a place to write and illustrate words using the featured digraph, and lines to write the word and phrases the teacher dictates. The second page has a grammar activity. The back of the book has pages for the student to write their spelling words for a weekly test.
I have been using Jolly Phonics with my 5 year old daughter, and Jolly Grammar with my 7 year old daughter. I started Emmie in the very beginning of the first phonics book. They really like the workbooks and the activities in them. The lessons are short. The order that the letter sounds are taught in get children blending letter and reading quickly. The activities are age appropriate and you can move through the program at your child's pace. Children have plenty of opportunity to color, draw, and illustrate their lessons. The lessons are scripted for you but you can adapt to fit them to your needs.
Rather then having Lily write her spelling test in the back of the book, I had her use the Can Do Cubes also from jollyliteracy.com and an upcoming review. She liked building the words much better then writing them. The spelling lists were different from anything I have used before. Rather then having the whole list focus on a specific spelling rule or digraph, their lists have a variety of words. 5 of the 10 words feature the spelling of the week, words one and two are regular 2-3 letter words, word 3 features a consonant blend, and words 8 and 9 are tricky words. It makes it seem a bit random and even Lily commented on it, but it is something we can work with because she is enjoying the rest of the program so much. The grammar activities have been wonderful ways for her to learn basic grammar.
To see what my Crew Mates had to say, stop by the Crew Blog!