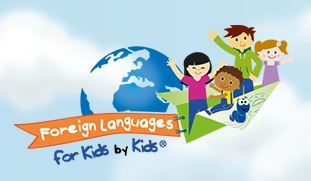 We school year round, taking several breaks throughout the year and having a much lighter schedule in the summer. I was excited to have Starter Set 1 from Foreign Languages for Kids by Kids as part of our summer school this year to introduce the children to Spanish.
Foreign Languages for Kids by Kids was founded by Kit Strauss after looking for a Spanish program to teach her sons and not finding what she was looking for. It teaches Spanish to children in a fun way using an immersion approach. Starter Set 1 includes:
DVD with 3 different videos: Basketballs Aren't for Breakfast (Level 1), The Little Magic House Part 1(Level 2), and the Little Magic House Part 2 (Level 3)
3 Teacher's Guides, one for each level
3 Student Workbooks, one for each level
Sticker Set
Flashcards for each level
Go Squish! Card Game is also being included while supplies last
In Foreign Languages for Kids by Kids, the DVD is the in-flight movie that is being viewed as the viewer travels first from Washington D.C. to Lima Peru, then Lima Peru to Bogota Columbia, and finally Bogota to San Jose, Costa Rica. The student workbooks are designed to look like magazines that you would find on the plane. I thought that was such a neat concept!
The main part of the program is the DVD. Each level stars children speaking completely in Spanish. There are visual cues throughout the DVD that allow children to see and hear the words being spoken. The vocabulary words are used in a variety of ways to help solidify their meanings. The conversations include common words that you would need to know to speak the language and the movies are very funny in a cheesy, kid friendly way. There is a rapid review at the end of each video to reinforce what has been learned.
In the Teacher's Guide, you will find good information about the program and learning a foreign language. Each lesson tells you where to stop and start the DVD, which workbook pages to complete, and other optional activities and games to do to go along with the lesson. If you follow the lesson plans, it should take 20 weeks to complete all 3 levels.
The workbooks are in full color and have a variety of activities for the student to complete such as fill in the blanks, crosswords, matching,gust of grammar and more. It also has information on geography and culture. Answer keys are located in the back of each workbook. They are for students around 3rd grade and up, although younger students could use them with help.
The sticker set has stickers of several of the words being learned for your children to place around the house. The stickers are not overly sticky and peel off easily when you want to remove them.
The flashcards can be used in a variety of ways. You can use them to drill words or to play different games, including the Go Squish! game.
I have been using Foreign Languages for Kids by Kids with my 5,7,10 and 11 year olds, following the schedule in the Teacher's Guide. The length of the lessons vary depending on the activities but we spend around 30 minutes per lesson.
The first day we watched the DVD, I told the children we were watching something called Basketballs Aren't for Breakfast, and they didn't believe me! I showed them the box and they were intrigued. They loved the DVD and wanted to watch all 3 movies on the first day. I did not let them and instead followed the lesson plan. They are very eager to do their Spanish lessons every day.
As I said earlier, I love the concept and the way the pieces all fit together. The children enjoy the DVD. I like the visuals that are in the DVD. For example the big dog wears a shirt that says "Grande", the little dog wears a shirt that says "Pequena", the books say "libros" etc . . .The lesson plans put everything in digestible chunks and there is constant review.
I had thought that the children that would get the most out of this curriculum would be my 9 and 11 year old boys and while they have learned a lot, my 5 and 7 year old girls have really taken off with it! I cannot believe how much they have learned and how quickly. I hear them talking in Spanish all the time, using the vocabulary they have learned so far.
You do not need to have any kind of Spanish background in order to teach this to your children. Everything you need is in the Teacher's Guide. I had a few years of Spanish in high school but am not fluent in the language at all. I am so thankful that Foreign Languages for Kids by Kids is so easy to teach and to learn!
I personally prefer physical products, but Foreign Languages for Kids by Kids offers digital subscriptions as well for those that prefer digital. You can find a free trial here.
To see what my Crew Mates had to say, stop by the Crew Blog!