We love to play games at our house. I am especially fond of games without a ton of small pieces to lose and easy to follow directions. Travel games are an added bonus because we travel back and forth to my parent's house quite a bit and it gives the older boys something to do. We were very excited to be given the opportunity to review one of
Griddly Games
brand new games
Nature Nuts.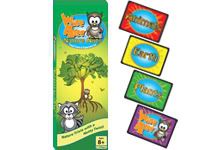 Explore the marvels of nature with the trivia game based on the award winning Wise Alec Family Trivia Game. Nature Nuts has two levels of questions on every card so even the nature novice and the eco-expert can play together. There are 300 questions to test your knowledge of animals, plants, and the Earth all in an easy to transport box.This game is recommended for ages 8 and up and for 2-6 players. Use Nature Nuts as a stand alone trivia game or add this set of cards to expand your copy of the original
Wise Alec Trivia
Game.
Game Contents:
50 Animal Cards
50 Plant Cards
50 Earth Cards
50 Wise Alec Cards
1 custom die
You can download a copy of the rules
here
.
To view a list of retailers where you can purchase the game and their pricing click
here
.
I played Nature Nuts with my 7 year old and 9 year old boys. Although the game is listed for ages 8 and up, the three point questions were easy enough for my seven year old to answer. I did have to read the questions for him. The instructions were very simple to read and understand and no set up is required so you can be ready to play in minutes. Since the instructions are on the inside cover of the box, they are always available for reference in case you need them. The box is very compact and easy to take the game from room to room or even in the car. You choose how long you want the game to last by deciding how many minutes to play or how many points you are playing to. Most importantly, the game is fun! The questions are very interesting and educational and we really enjoy playing the game. I found the 7 point questions very challenging, but was not surprised when my 9 year old knew the answers to some of them. In addition to the question cards there are Wise Alec cards that may require you to answer a question, say a tongue twister, do an action, or lose points due to something unfortunate as your horse passing gas (which was my 7 year old's favorite card.)
Alex doing his best fish face for 3 points
There is one thing that I would change. All of the questions on the Plant, Animal, or Earth cards gives you the answer. The Wise Alec Brain Teaser cards do not give you a list of possible answers. For example, one of the Brain Teaser cards says, "Name 3 types of deciduous trees" 5 pts. Another one says, "Name 5 types of birds." It seems to be mostly common sense answers, but, if it doesn't give you a list of correct answers, how do you know if you are correct or not? Especially if it is children playing together.
To see what other crew members had to say click
here
.
I received a complimentary Nature Nuts game for the purpose of writing a fair and honest review. I received no other compensation.