Susan K Marlow writes wonderful, wholesome, historical fiction books for children. Her main series takes place on the Circle C Ranch in the 1800's in California, and follows the life of Andrea Carter. There are 4 different series of Circle C books. In Circle C Beginnings Andi is 6 years old. In Circle C Stepping Stones she is 9 years old. Circle C Adventures features 12 year old Andi and Circle C Milestones finishes off the series with 15-18 year old Andi. Each of the series can stand alone, meaning that if you have a 12 year old, they can start with Circle C Adventures, but it is also nice for your daughter to grow up with Andi and start reading through the different series starting as young as 6 years old.
There will be 6 books in the Circle C Stepping Stones series. These books are a little longer and a slightly higher reading level then the Circle C Beginnings books but still include illustrations. The series is for children around ages 7-10.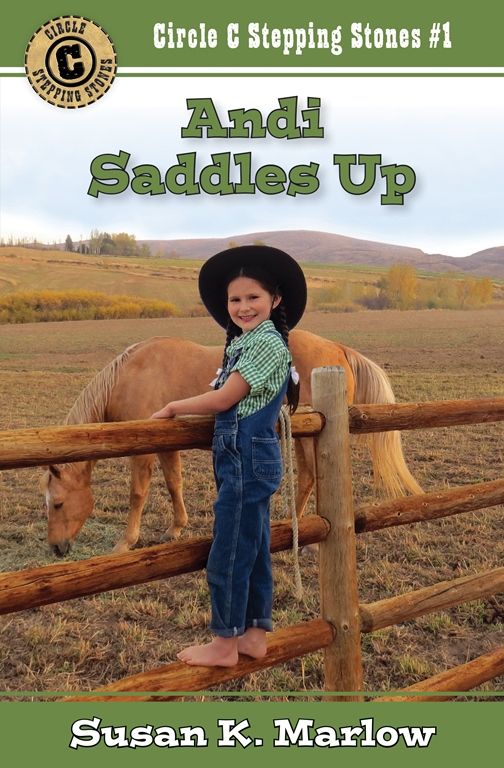 Andi Saddles Up is a 104 page paperback book with 12 chapters. In the book you will also find a vocabulary page listing words and definitions your child may not be familiar with and a page on historical facts about real life sheep and cattle wars. In this book, Andi is sad and lonely when her friend Riley moves away. She makes a new friend, but their fun is in danger because of a boundary argument between Sadie's pa and Andi's brother Chad.


Andi Under the Big Top is a 105 page paperback book with 12 chapters. It also has a page of vocabulary words and definitions and a page on the 1800 circus. In this book, the circus comes to town and Andi is very excited! What can be more exciting then the circus? Andi meets a new friend, Henry Jackson, who works for the circus selling circus treats. Henry ran away from home to join the circus and now is trapped. Andi wants to do something to help him but in the process just might lose something she loves.
To go along with the books you will find
free downloadable coloring pages
and also
free downloadable activity pages
. The activity pages are study guides that contain activities such as: comprehension questions, language arts, geography, history, math and science, character and Bible, crafts and just for fun activities, and music. There is also a suggested schedule for reading the books and completing the activities and an answer key in the back. If you prefer to purchase the activity guides printed and spiral bound you can do that
here
.
Lapbooks
are also available for purchase.
My younger daughters are 6 and almost 8. As I mentioned above we had Andi's Scary School Days and last year I borrowed the rest of the Circle C Beginnings books to read aloud to the girls. We also reviewed Tales from the Circle C Ranch, a collection of short stories filling in some of the gaps the books didn't tell us about. Lily (7) has really taken off with her reading independently so I was very excited to see the release of the Circle C Stepping Stones because I knew she would be so excited to read them on her own. And she was!
We loved the stories! I have said it before but it is so hard today to know what kind of content you will find, even in children's books. One thing I never have to worry about when reading books by Susan K. Marlow is inappropriate content. The books are wonderful stories that will teach your children life lessons and history as well. Andi has problems and difficulties that your children can relate to and makes mistakes just like people will in real life, but she shows the development of great character traits and trust in the Lord. The length of the chapters and the books are perfect for the 7-9 year old age range but if you have a struggling reader they can still enjoy the story by listening to someone read it aloud. The illustrations are adorable and the inclusion of the vocabulary words is very helpful.
Lily says she loves Andi. That she is very nice and brave. In Andi Saddles Up, her favorite part was when Andi and Sadie met. In Andi Under the Big Top she loved how it ended.
The activity pages are awesome and a wonderful addition to the books! I love the information that is included and that the activities have themes that are found in the books. You can choose to follow the schedule that is included or just pick and choose the ones that you want you child to do.
After receiving the Circle C Stepping Stone books for review, Lily wanted to read the Circle C Beginnings books herself since I had read them to her before. So I purchased the entire set on Susan K. Marlow's website, where by the way, you can also have your books personalized. A few days later we received the books with a wonderful personalization, two bookmarks and two stickers. My girls were so excited!!! They couldn't believe a famous author had written a note to them! Lily then made a gift to thank Ms. Marlow and wrote an email to her and she responded the same day. I appreciate it so much when authors take the time to do that. It made my sweet girl's day!
I highly recommend any books written by Susan K. Marlow. To see what my Crew Mates had to say, stop by the
Crew Blog
!