We love to read. I spend much of our homeschool day reading aloud to the children. They especially enjoy books about nature or wildlife. We were excited to have an opportunity to review one of the books in the
By the Way Book Series
called
Florida's Treasure Coast ~ Here We Come
!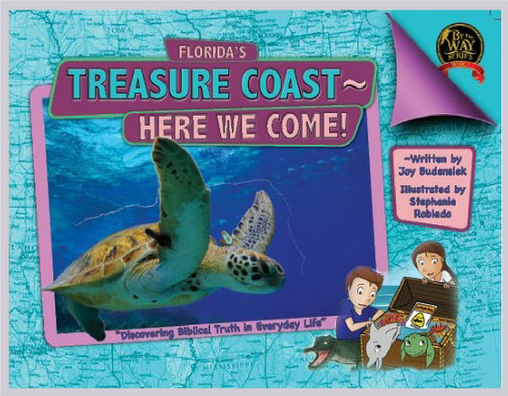 The By the Way Book Series was written by Joy Budensiek. The series follows the journies of Alex and Lexi as they travel to different locations and learn about the culture, history, and natural habitat of the place they are visiting. Through their explorations they learn about God and His creation.
So far there are 6 books in the series:
Florida's Treasure Cost ~Here We Come!
Smoky Mountains ~ Here We Come!
Pennsylvania ~ Here We Come!
Ohio ~ Here We Come!
Washington ~ Here We Come!
Colorado ~ By the Way
4 more books are releasing in 2017 including :
Ireland
New York
Idaho
Indiana.
Each of the books are hardcover and have beautiful photographs and illustrations. There are also Bible verses throughout the books. You can
purchase
the books for $14.99 each.
In Florida's Treasure Cost ~ Here We Come! Alex and Lexi fly to Florida to visit their grandparents. While they are there they discover many of God's treasures while exploring His beautiful creation. They learn about the Atlantic Ocean and many of the things you find there including: palm trees, shells, manatees, whales, sharks, insects, Indians, pirate treasure, starfish, and more. The next day they go on a geocaching adventure to Jonathan Dickinson State Park and learn about turtles, panthers, scrub jays, and more. They also take a boat Tour to Trapper Nelson's and learn about things such as osprey, and alligators. Back at their grandparents home they encounter a fox, land crabs, lizards, and see a mama sea turtle lay her eggs.
I read Florida's Treasure Cost ~ Here We Come! aloud to my 5,7,9, and 11 year olds. I chose this book because my parents moved to Florida a couple of years ago and we have visited there a few times. I knew the children would be interested in reading more about Florida's wildlife. As I read this book aloud, the children filled out some notebooking pages about some of the creatures described in this book.
This book is packed full of fun and interesting information. We learned many new things from reading through it. My boys especially were interested in the information on pirates and they want to have a geocaching adventure of our own ( I am hoping to do that this week-end.) We had never heard of Jonathan Dickinson or the state park or the story of Trapper Nelson. We loved all of the facts about the topics that were covered and the photographs were beautiful.
We try to include God in everything that we do and all the subjects that we teach on our homeschool and it is wonderful to find books that put the emphasis on God and His creation. I love that each of these books in the series focus on a specific place. We did a study of the 50 states last year and these books would have been a wonderful addition.
To see what my Crew Mates had to say about the By the Way Book Series stop by the
Crew Blog
!