Hal and Melanie Young are the chief publishers at Great Waters Press which focuses on making biblical life practical. You may have heard of them because of the outstanding book
Raising Real Men
Surviving, Teaching, and Appreciating Boys.
Great Waters Press
has two new books coming out A Cry From Egypt and Children in Church. As a member of the Schoolhouse Review Crew we were given an opportunity to review
A Cry From Egypt
by Hope Auer.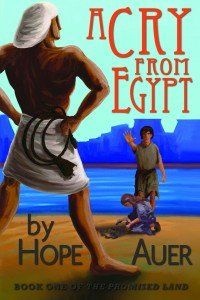 paperback 193 pages
A Cry From Egypt was both written and illustrated by homeschooled kids. Hope Auer began writing the manuscript as a school assignment at age 13 when her family was studying Ancient Egypt and she has been editing and rewriting it ever since. Mike Slaton is a talented homeschool artist who did some cover sketches for the book that was just what they were looking for. It is so exciting that homeschoolers were able to follow their delights and God given talents to write and illustrate this book!
A Cry From Egypt is the first book in the Promised Land series and deals with the Israelites while they were still in slavery. It is a Historical Fiction and although the plagues and other events are things that really did happen, the story is built around a fictional character named Jarah and her family and friends. Jarah and her family were slaves in Egypt. Their lives revolved around hard work and orders by the Egyptians. Added to that, her family was torn by those who believed in the Egyptian gods and those who believed in Yahweh, the one true God. Jarah struggles with who and what to believe in. Life begins to get even more complicated than usual when two people named Moses and Aaron appeared before Pharaoh and demanded that the Hebrews be let go. Work gets even harder for the Hebrew and soon, strange things start happening. The Nile is turned to blood, plagues cripple the Egyptians but not the Hebrews causing even more danger. Throughout it all Jarah learns what it is to have faith and that Yahweh hears and answers prayers.
Advanced Reader Copies are available for $12.50
here
.
For me, one of the things that determines a good book is one that draws you in right from the beginning of the first chapter and keeps you captivated until the end. . A Cry From Egypt does just that. Chapter one begins, " Jarah ran down the dark, narrow street. Her breath was coming in short, painful gasps and her legs felt like they were made of putty. Tired as she was she could not let the Egyptian soldiers get her." But, even before I got to chapter one, I was already drawn into the story. Why? Just reading the author's preface made me want to read this book. Especially this part, " I wanted children, young adults, and adults to be able to read something that would encourage them and inspire them to spend more time in the Word studying God's plan for the world and His plan for His Chosen People." What an awesome motive for writing a book!
A Cry From Egypt is an exciting, action packed book. The characters are real and believable and go through struggles that families can relate to even today. The settings and descriptions makes you feel as though you are a part of the story. The author does a wonderful job in staying true to history and the culture of the time period. Although it is a fictional story, she also stays true to the Biblical account of Moses and Aaron and the plagues to the point that she doesn't even name the Pharaoh or his queen because it is not known for sure which Pharaoh it was. A Cry From Egypt would make a great family read aloud for those studying Ancient History, Egypt, or the book of Exodus.
A Cry From Egypt is recommended for children and adults ages 8 and up. Parents with children on the younger age range or especially sensitive children may want to pre read before reading aloud or handing it over to your child. Although it is not what I consider graphic, there are scenes in which the slaves are beaten by the Egyptians. There is also a scene in which an Egyptian girl is beaten by her father after they find the first born son is dead. These things may be disturbing to younger or sensitive children.
To see what other crew mates had to say about A Cry From Egypt or Children in Church click
here
.
Disclaimer: As a member of the Schoolhouse Review Crew I received a complimentary copy of A Cry From Egypt for the purpose of writing a fair and honest review. I received no other compensation.