Janice Campbell from Everyday Education, LLC has written a variety of books and resources for homeschoolers with an emphasis on writing, literature, and homeschooling high school and beyond. She has written a series of Literature courses for 8-12th grades called Excellence in Literature. I recently had an opportunity to use and review Excellence in Literature Handbook for Writers.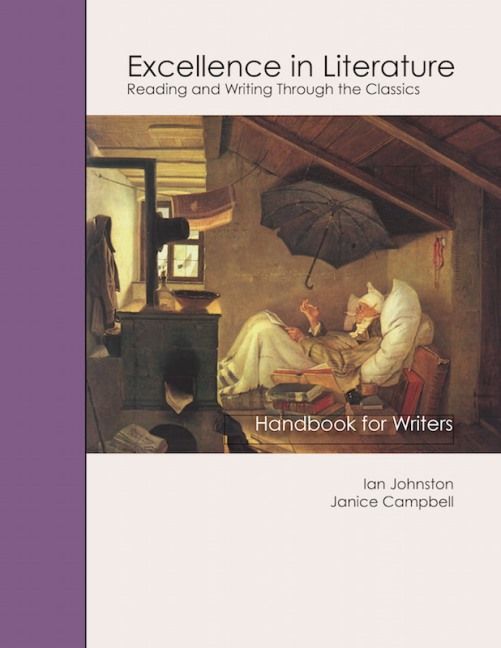 The Excellence in Literature Handbook for Writers is not just a compliment to the Excellence in Literature series, but a Handbook for all students in middle school and beyond. In order to communicate effectively, there first needs to be an understanding of the basic principles of grammar, style, and usage and to use them correctly and consistently. Janice Campbell used two handbooks by Ian Johnston, a retired college professor, updated them and added some things to create the Handbook for Writers, a 420 page resource that contains information about how to write essays, how to construct a logical argument, how to thoughtfully read all types of literature, how to use inductive and deductive reasoning, and also contains information on grammar punctuation, style, and usage. This handbook was designed not only for English classes but also for writing papers in other courses, and help in debate classes. It also contains information for teachers on how to evaluate papers.
The book is split up into two main sections. The first section contains instructions and samples for writing essays and constructing arguments. In it you will find topics such as:
Simple Principles of Arguments
Setting up the Argument
Defining Key Terms
Deduction and Induction
Organizing the Main Body of an Argument
Paragraph Structure
Paragraph Functions
Writing Arguments About Literary Works
Sample Outlines for Essays and Research Papers
Critical Approaches to Shakespeare
Criteria for Making Literary Observations
Section two contains information about usage and style. Part Two sections include:
Phrases, Clauses, Sentences
Words
Basic Punctuation
Pronouns
Parallelism or Parallel Structure
Modifiers, Gerunds, Infinitives
Clarity, Logic, Structure
References and Bibliographies
Basic Format
Keyhole Essay Graphic
Rubric for Writing Evaluation
Each section of the Table of Contents is broken down into smaller topics. This is incredibly helpful because of the size and scope of this book. The Table of Contents is very thorough, and makes it very easy for you to find exactly what you are looking for. You can find the entire Table Of Contents here.
You can purchase The Handbook for Writers in an ebook version for $29, a print version for $39, or you can buy the ebook and print bundle for $49. The bundle is a great option for those who like to have a hard copy but may also need a copy on the go, or for students and teachers to each have their own copy.
This was not my first opportunity to review for Everyday Education, LLC. Several years ago I had the opportunity to review Excellence in Literature I Introduction to Literature and I also have used American Literature. I was greatly impressed with these products from Everyday Education and was excited to have an opportunity to review the Handbook for Writers. I was not disappointed. I have been going through the handbook myself reading through different sections in order to teach them to my children. This is an amazing resource to use with your middle school and up children. It says that no handbook can cover absolutely everything, but I have to say that this one sure does come close. It covers a huge variety of topics necessary to improve your student's ability to construct an argument and their general writing skills. The handbook is written in a very conversational user friendly tone and many examples are shown throughout the book. I also found the Rubic for Writing Evaluation very helpful in evaluating papers.
The book is very large at 420 pages. Usually I like to use ebooks on my tablet, but this is something that I think would be better in print format. The print version is only $10 more then the ebook version and I think it would definitely be worth the extra $10 to purchase it as a print version.
To see what my Crew Mates had to say, click here.