I think art is very important and have tried to always make it a priority in our homeschool. We have used several different art curricula and have done a lot with art appreciation. I can NOT draw. I have never been good at it and quite honestly hated having to take art when I was in school. When we were chosen to review ArtAchieve Entire Level I, I decided I was going to sit down and take these lessons with the children and I have been having so much fun!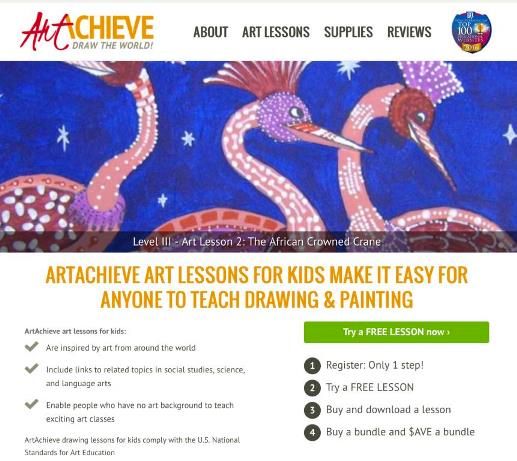 ArtAchieve believes that drawing is an essential skill and that anyone can learn to draw. They strive to provide an approach that ensures success while still allowing for each person's creativity. There are 5 different levels with each level building on skills developed in the previous level. It is recommended that those with little drawing skill should start at Level One regardless of their age. Lessons are taught using a streaming video or by powerpoint presentation.
The images for each lesson comes from different locations around the world. For each lesson, a list of cross curricular connections in areas such literature, science, geography, and writing are given allowing you to take your art lesson and turn it into a mini unit study. The amount of time each lessons takes will run anywhere from around 40 minutes to an hour.
Lily (7), Anthony (10), Christian (9), Emmie (5)
A list of supplies is given on the lesson description page. For each lesson you will have to print out a drawing warm up page and a page showing the finished drawing for each student. Each lesson follows a similar format. At the beginning you will see the original object for each lesson and get a little background on it. A list of supplies is given on the video along with the rules for drawing. Students then work on the warm up sheet which will prepare them for the types of lines they will be drawing in the lesson. They do a relaxation exercise and then are guided through the drawing of the object. Last they have the opportunity to color the image and make it their own.
Try a lesson for free! The Czech Cat is a free lesson that will give you an idea of how the program works.
These were my Hungarian Insects
Lily's (age 7)
I have been using ArtAchieve Entire Level I with my 5,7,9, and 10 year olds with my 5 and 7 year olds participating the most. My 5 year old just turned 5 and likes to participate with the older children. She has attempted some of the drawings but has been quite happy watching the videos and then just coloring in the print out of the finished product. We have completed lessons 1-8.
Anthony (10), Lily (7) Mine, Christian (9)
Lily, me, Christian
What I Love About ArtAchieve
The supplies are very affordable. Most of the lessons use very basic supplies like paper, markers, watercolors, and oil pastels. A few of the lessons had supplies we didn't have like glitter glaze and a charcoal white pencil but we just substituted the pencil for a crayon and left off the glitter glaze. The projects still turned out great.
The drawing warm up exercises are a great way to practice the types of lines we would be drawing. We have used many different art programs and never have had anything like that. I found it very helpful.
The subject choices were very interesting. My children love animals and nature and really enjoyed the different things we were drawing as well as listening to the background information on the different subjects.
The instruction itself was very good. A lot of emphasis is put on the fact that everyone makes mistakes and different people's drawings should not all look the same. The instructor has a very laid back manner and it was very easy to follow along with him.
You can pause or back up the video whenever you need to. This allows everyone to be able to work at their own pace.
The cross curricular lesson suggestions are a wonderful resource. As I mentioned above you could turn each art lesson int a mini unit study. We did not use a ton of the resources but we did check out a few of the links on geckos as potential pets, owls, and owl calls.
Even though the drawing instructions are very specific, you have the ability to make each piece of artwork your own by adding your own designs, colors, and background.
The finished products all looked amazing! Even my drawings looked good!
Emmie, Me, Lily




A Couple of Things to Keep in Mind
If you are using this with multiple children, you will go through supplies pretty quickly. I started out with one large pack of 24 crayola markers for 4 children and myself to use and by the time we got to lesson 4 many of our markers had already started to be used up.
The lessons do take about an hour from start to finish. We finished them in one sitting but depending on your child's interest and your schedule you may want to split the lessons in half.
Even with all of the emphasis in the videos on the rules for drawing and that it is ok to make mistakes, my 7 year old was easily frustrated with some of the lessons because she is an absolute perfectionist and wanted everything she drew to look just like it did in the lesson. She did some absolutely beautiful work once I got her to settle down, not cry, and finish what she started. And she says that she has loved the lessons! Not doing the lessons on days when we had a lot of other stuff going on or when she was over tired made a huge difference.
Lily, Me
Members of The Crew reviewed the first three levels of ArtAchieve. To see what my Crew Mates had to say, stop by the Crew Blog.