Memoria Press
is a publishing company that produces easy to use classical Christian education materials for private schools and homeschools. Recently we had an opportunity to use and review
Prima Latina
, An Introduction to Christian Latin Teacher Manual, Student Book, Pronunciation CD, Flashcards, and Instructional DVD.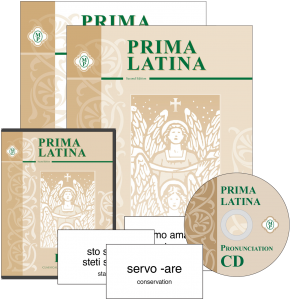 Prima Latina is a preparation course for Latin Christina. It was written for children in grades 1-4 who are good readers, but still becoming familiar with English grammar. It was designed to be able to be taught by teachers with no background in Latin. Students will learn important English and Latin grammar concepts, vocabulary, prayers, sayings, hymns, and constellations.
The text contains:
25 different lessons including grammar designed to complete one lesson per week
5 vocabulary words per lesson along with English derivatives
practical Latin phrase for each lesson
one line of prayer for each lesson with entire prayer being completed after 5 lessons
constant review with a test taken after every 5 lessons to ensure mastery
The Student Goals for Prima Latina are to:
Learn the basic Latin alphabet and pronunciation of vowels and consonants sounds.
Pronounce, spell, and translate 125 Latin words.
Learn 25 practical Latin sayings and 4 complete prayers
Learn numbers 1 to 10
Learn the names of popular constellations
Learn and understand what a derivative is
You can view the Table of Contents
here.
See a sample lesson
here.
View a sample of the Teacher's Manual
here
.
The paperback
Teacher's Manua
l ($14) contains the entire student text (with answers), a vocabulary appendix, teaching guidelines, tests, and test keys.
The paperback
Student Book
($14) is a consumable workbook. It contains the Practical Latin saying, the concept being taught, vocabulary, Latin Prayers, and derivatives for each lesson. It also contains the written exercises for each lesson. Every lesson has review questions, questions about the new concept that was learned, words to translate, a Speaking Latin section, a place to write vocabulary words and their meanings, and a fun practice exercise.
The
Pronunciation CD
($4.95) includes pronunciation direction for each lesson and four hymns from Lingua Angelica. The student workbook tells you which track to listen to in the Speaking Latin section. Your child can listen to the words and then follow the directions to speak them themselves.
Latin Christina I-Prima Latina Flashcards
($14.95) are simple flashcards with black ink and printed on white cardstock. The front of the cards contain the word and its derivative and the back shows the meaning and part of speech. The flashcard set is the one that is used for Latin Christina, but every word that is learned in Prima Latina is contained in the set
The
Instructional DVDs ($
45) contain 9 hours of instruction by Leigh Lowe on 3 discs. Each of the lessons in the book is gone over step by step on the DVD. The DVD shows the teacher teaching while allowing the student to see and hear what is being taught in the lesson. You can view a sample lesson on
this
page (scroll down to DVD section.)
The Prima Latina complete set can be purchased for $90.90.
I used Prima Latina mostly with my 1st and 3rd graders, but my K and Pre-K listened in to the DVDs. The lessons are set up so you can complete one lesson per week. You could divide the lesson up to complete over the course of a week, but I thought doing our Latin lesson once a week was perfect for us! Instead of trying to carve out time everyday to work on it, I just set aside a block of time every Wednesday for us to work on Latin. First we viewed the Instructional DVD. The lessons lasted around 20 minutes. Then we did each of the sections in the student workbook together. We did spend some time during the week using flashcards for reinforcement.
I was excited to have an opportunity for my younger children to learn Latin! My older two are already using a Latin program but it is too advanced for little ones. I have a little bit of Latin in my background, but even if you know nothing about Latin at all, you can use Prima Latina with your children. The books have a very clean layout with nothing distracting on the pages. The program is very easy to use, all you have to do is open the book and go. While using this Latin program, the children are learning (or reinforcing) English grammar. I love the inclusion of the prayers and the lessons on the constellations.
While you do not have to have the DVDs to use this program, it is a great resource. With the DVD, children that can read and write well can use Prima Latina on their own. The DVD goes through the lesson step by step. After watching the video, students can complete the workbook exercises. Young children who are not reading or writing yet can also learn Latin with these DVDs. My 6 and 4 year olds watched the DVD with us and learned Latin vocabulary. The instructor is very enthusiastic and has a great presence for young children. My 9 year old said that he thought he was too old for the DVD because she is a teacher for "little kids." He thought things like repeating the words and racing to see how fast you could say the sounds were "babyish."
I also wanted to mention that the DVDs and the CD uses Christian (Ecclesiastical) pronunciation rather than Classical pronunciation because that is what you would hear if you are in a church that uses Latin. This bothered my older children because they are used to hearing the Classical pronunciation. How you pronounce Latin is really up to you, but young children may get confused if they hear it two different ways.
Members of the Schoolhouse Review Crew reviewed Prima Latina and Geography I. To see what my Crew Mates had to say, click on the banner below.