*this post contains affiliate links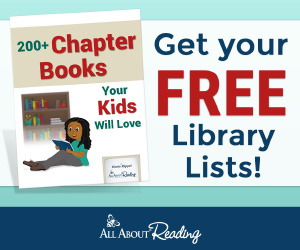 My children love to read. It can be so hard to find good, quality books for them to read on their own and for me to read aloud to them. I do not have the time to pre-read every book they are interested in. I am always looking for book recommendations from sources that I can trust.
I have been a fan of
All About Learning Press
for years. We use both their All About Reading Program and All About Spelling. Even after doing may reviews of different reading and spelling programs over the last 9 years as a product reviewer, I always stick with All About Learning because I have seen it work for both struggling and advanced readers and spellers.
When I saw the blog post from
All About Learning
with a free downloadable list of over 200 chapter books, (15 different series) I was very excited. All you need to do is enter your first name and email and you will have immediate access to download the list. You can read it from your screen or print it off and take it to the library. Pictures and a short description of each series is included. Some of the series we were familiar with, but there were several that we have never hear of before.
AALP also recommended a series on their blog called
The Incorrigible Children of Ashton Place by Maryrose Wood
(more info in the link.) There are currently 5 books in the series with the sixth releasing at the end of summer. I have started reading book 1, The Mysterious Howling , aloud to my 7,9,11, and 12 year olds and we love it! I cannot wait to finish up this book so we can read the others.
You may also be interested in this library list of
Picture Books for All Ages.
Happy Reading!
*links in this post are my affiliate links. I make a small commission of off any purchases made through these links. I only form affiliate relationships with companies whose products I actually use and can recommend!